Need a lot of cupcake toppers and need a fast, fun and easy way to make them? These are printed on label paper, and are first personalized with watercolors of your choice. The template here prints out ENJOY!, a message good for any occasion. But it's also so easy to customize this with a monogram, a hashtag, or a date. Just use the label maker template in your Word program, and push the letters to the right side of the column. You'll be churning them out in no time.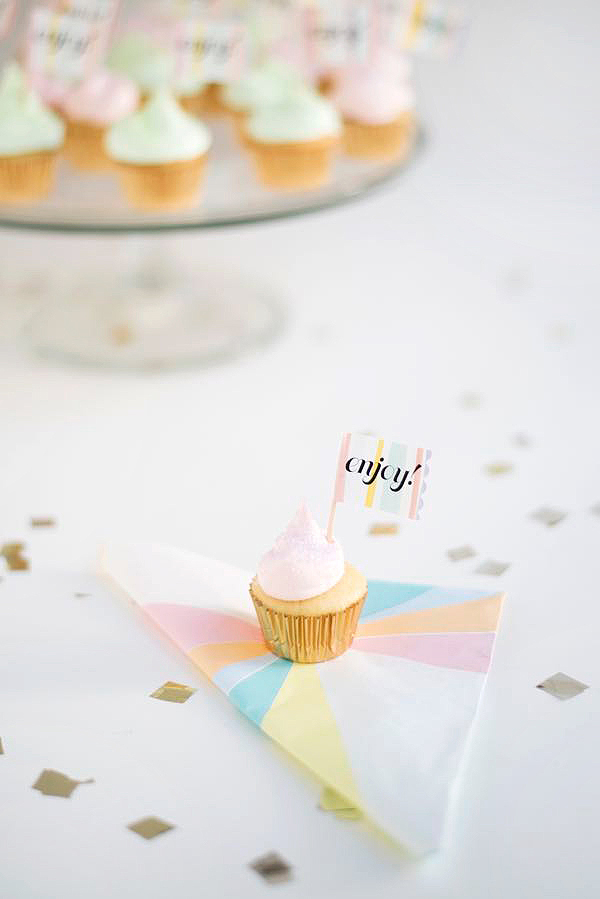 Materials needed: Avery size 5160 label sheets (or compatible), enjoy toppers template, watercolors, paintbrush, toothpicks, scalloped scissors.
Step 1: Orient the sheet of labels in front of you horizontally. With a mixture of watercolor and gouache, paint stripes from left to right. Start with one color and repeat down the page.
Step 2: Let dry.
Step 3: Print the enjoy toppers onto the water-colored sheet of labels.
Step 4: Peel off the labels and fold each label around a toothpick.
Step 5: Using a scalloped scissors, cut the edge of each label.
Photography by Tim Gibson