Ship ahoy! Make these giant map boats for your next bon voyage party – or they'd be perfect for an "Around the World" Baby Shower! Also great for any kind of little adventurer birthday party… especially one that includes a treasure hunt.
Materials needed: Old travel maps, scissors, paper straws
, paper, glue, tape
Step 1: Take a giant AAA map, open it fully, then fold top to bottom. (The maps are 36″ x 48″ and the finished boat should be about 23 1/2″ x 6 1/2″).
Step 2: With the crease at the top, fold the top two outside corners in toward the middle.
Step 3: Fold the front bottom edge up, flip over, and repeat, folding the bottom edge up.
Step 4: Smooth and flatten the map.
Step 5: Put your hands in the opening, pop the sides out, and flatten the new shape.
Step 6: With the opening on bottom, fold up the front. Flip over, and fold up the back.
Step 7: Again, put your hands in the opening, push the sides out, and flatten.
Step 8: Gently pull down the sides to pop open.
Step 9: Cut white paper to create two triangles roughly 5 1/2 x 3 inches and 4 1/2 x 2 inches. Curve the longest and shortest sides slightly to create a billowing sail.
Step 10: Glue the "sail" to top half of paper straw. Let dry.
Step 11: Tape the sail to the tip of the boat.
Step 12: Gently open the underside of the boat and smooth out any creases or ripples.
Optional: Attach ribbon or thin elastic to go under the neck. (You could even remove the thin elastic off a set of pre-made party hats for this purpose).
Might I suggest checking out Curious George's instructions for the boat-folding party, which happen to be a lot better than mine!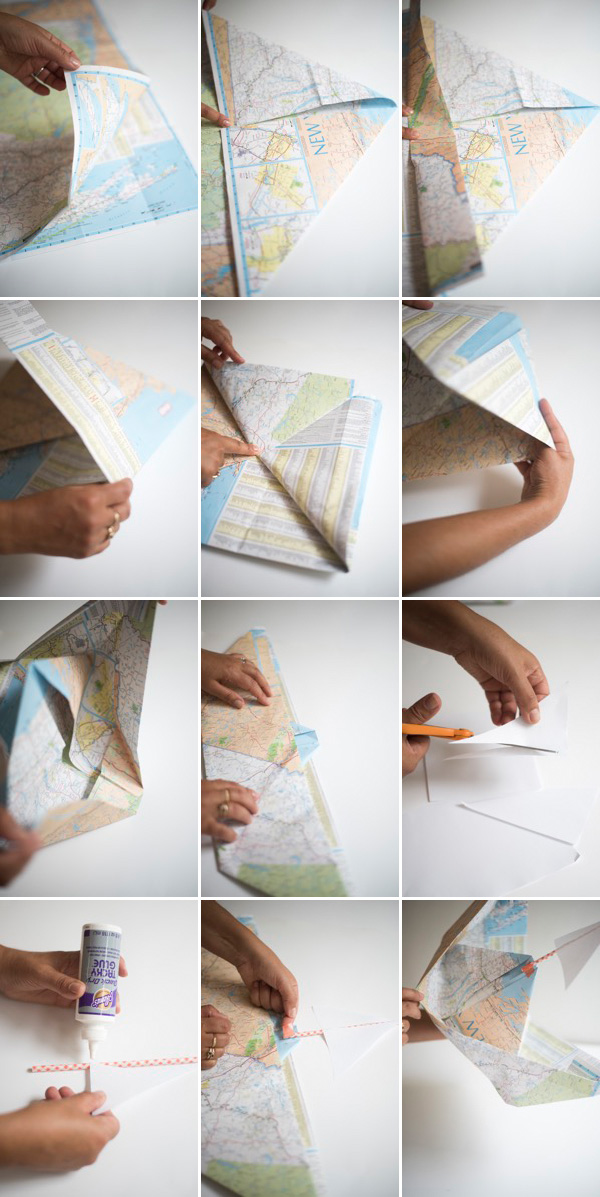 Photography by Tim Gibson