Besides launching our new site I've been also working on another project the last few months. I have been doing some major Spring Cleaning. I will tell you all about it…
I usually like to do some sort of deep seasonal cleaning just to get everything organized but after about five different people recommended this book I was curious. I picked it up The Life-Changing Magic of Tidying Up
 to see what all the fuss was about. Have you heard of it? It basically teaches you to go through your whole house (she is very specific about how to do this process) pick up each item and ask if it sparks joy. I've been slowly going through all my things and selling or giving away everything. This is something I've known for a long time (see here) but I like this book because it teaches you how to do it. The author claims it is a six month process I'm hoping to finish up this summer.
My friend Brooke is the ultimate clean house master. She keeps her house clean without cleaning all the time (I talk about her here.) She recommended keeping wipes in the bathroom and kitchen so you can wipe down everything in between cleanings. I've been using CloroxⓇ ScrubSingles™ and they are awesome. It makes everything easier to clean up. ScrubSingles are pre-loaded with cleaner, so you just wet the pad and go! Perfect for in-between cleanings. Are you good at keeping your house clean? What are your tips? Have you read the book?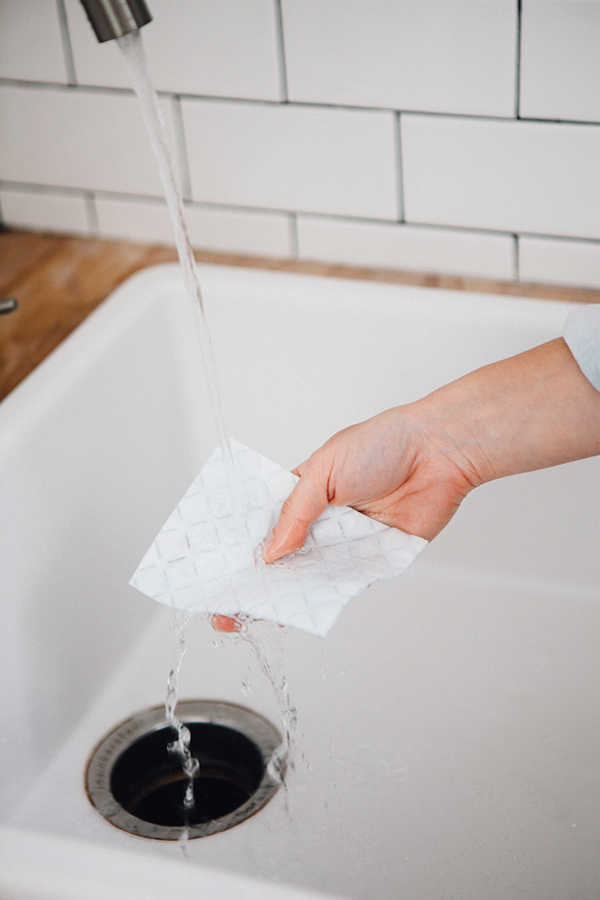 This post is sponsored by Clorox—helping you clean on the go for a happier home.
Photos by Paul Ferney for Oh Happy Day