Are you a cone or cup person? I was usually a cup type of girl myself (save a few calories? why not!) But why eat them at all when you can use them as a vase and pass on feeling the guilt. Now, that's my type of treat. These paper flower ice cream cone bouquets would be perfect for birthday parties, a good cheer up, or just the floral/ice cream lover like myself.
Materials: ice cream cone (waffle or sugar), x-acto knife, glue gun, cutting board, scissors, skewers about 3-4″ long, garden pot  2″ in diamter(optional to be used as stand), bright colored paper for flowers, green paper for leaves, striped paper for cone covers (free download here)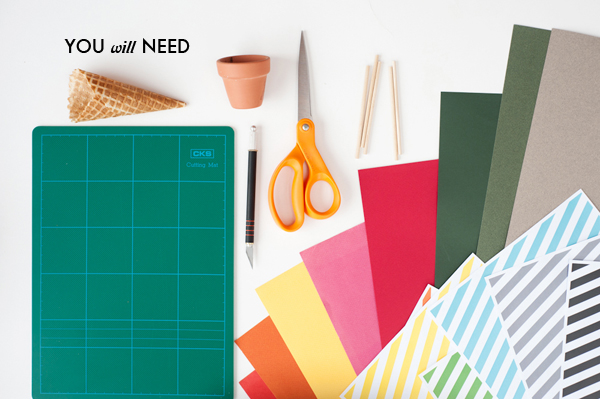 Click through for all the instructions!
Step 1: Using Jordan's party hat template, scale down the size to fit your cone and draw it diagonally on the striped paper.
Step 2: Cut around the template.
Step 3: Wrap it around the cone and secure it with double-sided tape.
Step 4: For the flowers, I created a rose from my tutorial here.
Step 5: Glue gun the skewer to the inside of the flower and hold in place until dry.
Step 6: Cut out leaves from the green paper.
Step 7: Roll them around a pencil to create shape.
Step 8: Dab some glue onto the tip of the leaf and attach to the cone paper.
Step 9: Voila!
To make a flower pot stand:
Step 1: Insert the skewer into the bottom hole of the stand.
Step 2: Turn it over and insert the skewer into the bottom of the cone.
Photography by Hilda Grahnat