Get ready for those shorter days and cooler nights by adding a little warmth and color to your home or next gathering. We partnered with Fiskars to use their collection of fabric cutting tools to craft these modern patchwork style coasters. These require a bit of machine sewing but are super beginner friendly, and the final hand-quilted details are the perfect thing to work on while curled up on the sofa with your favorite fall flick. Once finished, set these out and serve up some seasonal drinks to kick off the season!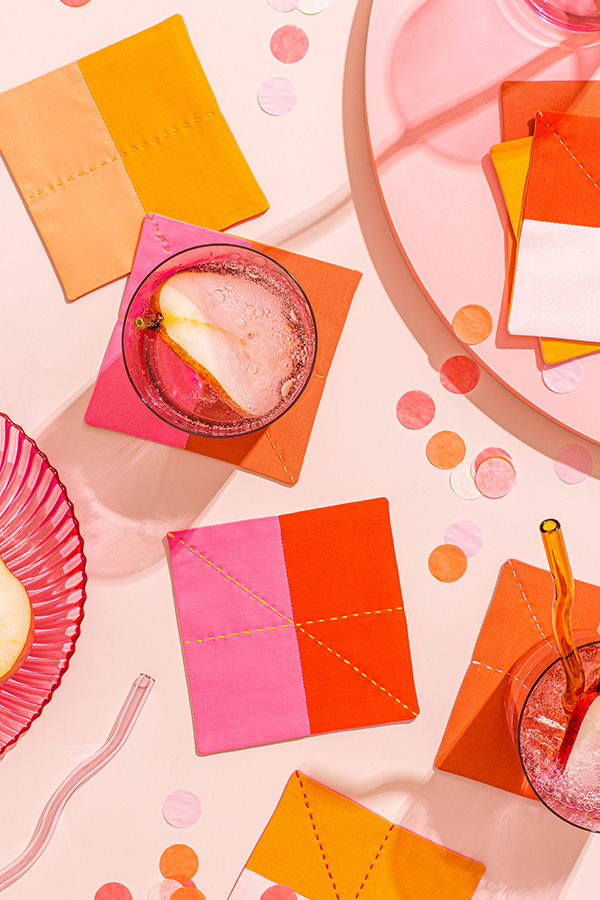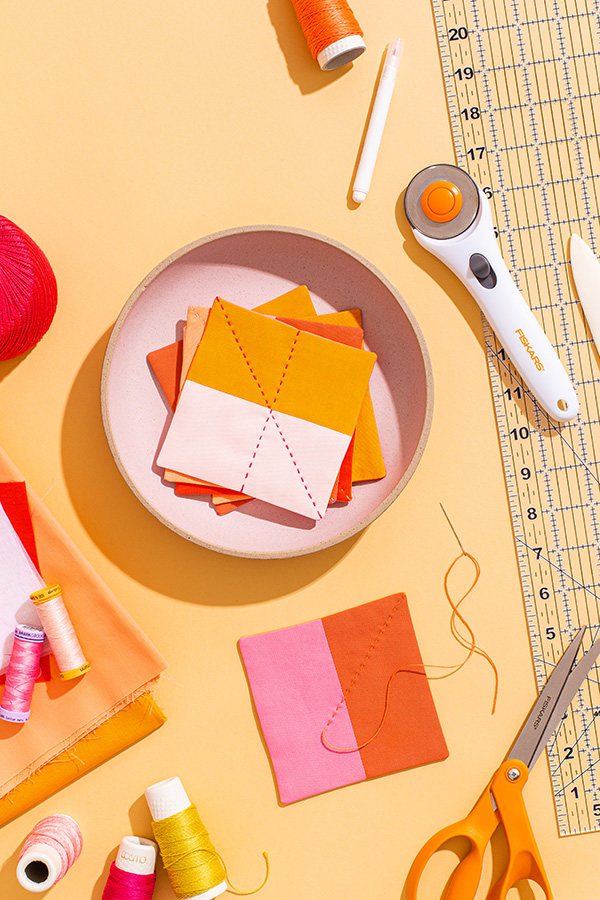 Materials needed: Quilting cotton in multiple colors (orange, terracotta, light pink, apricot, pink), Lightweight interfacing (we used cotton organdy), Fiskars 45mm Stick Rotary Cutter, Fiskars 18″ x 24″ Cutting Mat, Fiskars 6" x 24" Acrylic Ruler, Fiskars Orange Handle Scissors, Sewing machine & thread, Iron/ironing board, Sashiko thread (or embroidery thread), Pins (optional), Water soluble fabric pen (optional), Point turner (or bamboo skewer)
STEP 1: Cut 5" squares from quilting cotton and interfacing using a clear ruler and rotary cutter. For 1 coaster you will need 3 squares of quilting cotton in different colors, and 1 square of interfacing.
STEP 2: Stack two squares of quilting cotton and sew a straight line down the center. You can use a clear ruler and fabric pen to mark the line to make it easier to sew. Once sewn, press open the seam.
STEP 3: On top of the quilted piece, stack one additional square of quilting cotton, followed by the square of interfacing. Secure layers with pins.
STEP 4: Using a ⅜" seam allowance, stitch around the outside of the layers, leaving a 1.5" gap along one side. Once sewn, trim corners as shown and press seam allowances inward.
STEP 5: Flip coaster right side out, using a point turner or bamboo skewer to make corners sharp. Press flat.
STEP 6: Add hand quilted details, using a running stitch down the center of the coaster with sashiko thread. Tip: use a water soluble fabric pen to mark a straight line before stitching. Close seam with invisible hand stitches or fabric glue.
This post is sponsored by Fiskars.