Fall is right around the corner and nothing says cozy like warm hues and patchwork quilts! We drew inspiration from both for these sweet favor boxes we created with our favorite Fiskars tools. Based on modern, geometric quilt designs these involve some precise cutting, but allow you to skip the sewing machine. Fill them with colorful treats or small school supplies (like erasers, pencil sharpeners, or stickers) for those autumn festivities you've got brewing.
Materials needed: Quilting cotton in multiple colors (colors below), 4" Chipwood favor boxes, Fiskars 45mm Stick Rotary Cutter, Fiskars 18″ x 24″ Cutting Mat, Fiskars 6" x 24" Acrylic Ruler, Fiskars Orange Handle Scissors, Freezer paper, Parchment paper, Iron/heat safe work surface, Paint brush, Mod Podge or white glue
Step 1: Using a rotary cutter and clear ruler, measure and cut rectangles measuring 3.5" by 4.5" from fabric, in a variety of colors. (Here's our color palette – orange, terracotta, light pink, apricot, pink.) To minimize fraying, cut fabric on the bias (diagonal to the grain). Make additional cuts to some of the rectangles—cut in half diagonally to form triangles, or in half vertically to form narrow rectangles.
Step 2: Place a piece of freezer paper on a heat-safe work surface, with the shiny side facing up. On top, arrange fabric shapes from Step 1 to form a quilt-like design, making sure corners and edges are lined up and flush. Cover with parchment paper and gently press with a hot iron to secure the fabric pieces to the freezer paper, working in sections if necessary to prevent shifting.
Step 3: Brush the lid of a wood favor box with Mod Podge and adhere face down on the fabric "quilt" from Step 2. Let dry.
Step 4: Cut away the excess "quilt" and peel off freezer paper from the box lid. Brush the top surface of the lid with an additional coat of Mod Podge and let dry.
***Tip: To make multiple favor boxes at once, make a larger "quilt" collage in Step 2.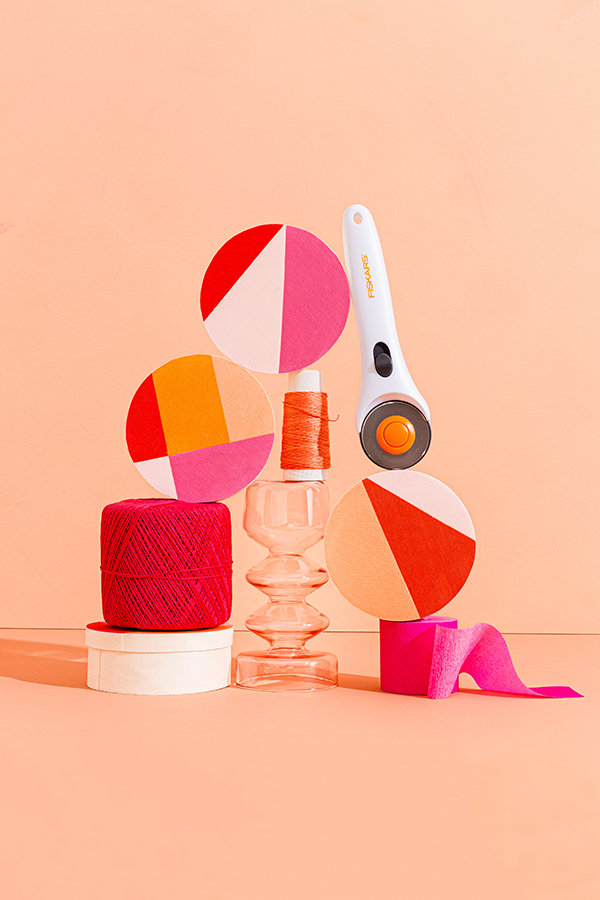 This post is sponsored by Fiskars.