We're excited to partner on this post with Too Good To Go. They are a clever app that connects you with local restaurants and grocery stores with surplus food to help fight food waste, which contributes to 10% of all global greenhouse gas emissions. On the app, we chose a gourmet grocery store and a juice store and then picked up a "surprise bag" of groceries for a third of the retail price. Read on to see what we made and our top tips for hosting your next waste free gathering.
The bread we toasted all at one time in the oven and then we used the different ingredients and a few things we had in the fridge to make all the toppings–including basil and tomatoes from our garden! It's fun to even keep a basket of toasted bread with toppings laid out so people can make their own creations.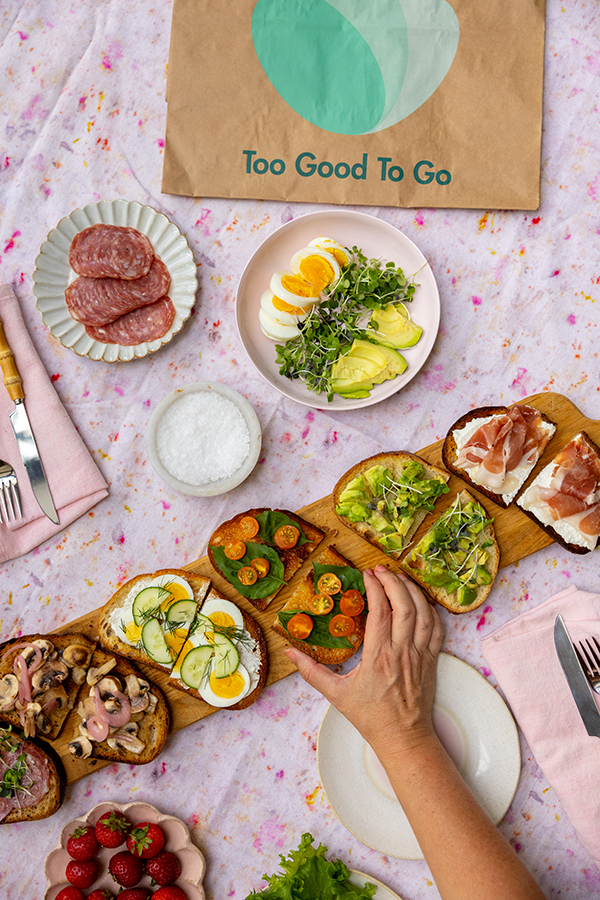 Here are our top tips for your next zero waste gathering:
Download the Too Good To Go app here!
Find a local grocery store or restaurant. We love the "surprise bags" because it's a bit of a surprise to see what we end up with AND a great way to check out a new spot in the neighborhood.
Pull staples from your pantry like bread, seasoning, dips, etc. to complete your meal.
Arrange things in cute dishes (by color if you're feeling extra creative). We like to mix a variety of them.
Grab a fun tablecloth – make it a picnic outdoors if the weather's right!
BYOB: Ask everyone to bring their own reusable bags and tupperware for any leftovers.
Repeat as often as possible. PRO TIP: Heart your favorite places on the app to make it easy to find each time.
These are some of our favorite ideas for toppings:
-Ricotta with prosciutto and hot honey
-Avocado with lemon and salt topped with sprouts
-Tomatoes, basil, salt, and olive oil
-Mayo, sliced eggs, cucumbers and fresh dill
-Melted cheese with sautéed mushrooms
-Soppressata and jalapeños
This post is sponsored by Too Good To Go.