Growing up, the best way to show my mom we cared was letting her catch a few extra Zs on a weekend morning so I always associate Mother's Day with restful time at home and simple, everyday kinds of luxuries—like someone making you coffee, a freshly made bed or a new set of PJs. For this post, we partnered with Purple to explore a few fun ways to delight mom this year. Read on for some easy ideas and a daisy-inspired DIY. AND we also have a special discount code to get you started on your Mother's Day gifting.
LOUNGE-WORTHY GIFTING
We love the idea of gifting mom comfy clothes, a great new read and most importantly, some downtime to enjoy them. A beautiful book is such a foolproof gift—we love that you can really tailor it to the recipient's interests. We've been curating a list of some of our favorites here. These pajamas in spring-ready pastels from the Sleepy Jones + Purple collaboration has us convinced they are a great gifting option. This set of sheets made from the same, knit jersey material, and this pillow insert would make a really great set as well. All together they make for the ultimate relaxing retreat.
BEDROOM BLOOMS
Adding fresh cut flowers to overlooked spaces is my favorite way to make things feel special—they just have a way of making you slow down to enjoy them while they bloom. For an extra element of surprise, sneak a bouquet onto mom's nightstand and let her be surprised when she wakes up.
DAISY DIY
Daisy prints are officially back from the '90s and it's kind of the best. They feel cheerful and upbeat, and because they're a bit of a neutral they look great layered on pretty much any solid color. We used a craft cutter and iron-on vinyl to fill this pajama pocket with posies and scatter blooms over a matching pillowcase. You can use our provided template to add this fun detail to basically any pocket—whether you're adding this to a tee, a tote, or a jacket, it adds a sweet and subtle personal touch. Full instructions below.
Materials Needed: Garment with pocket, iron-on vinyl in 2-3 colors, craft cutter, iron and ironing board, parchment paper, scissors, Daisy Artwork Template for pocket, Daisy Artwork Template for pillowcase
STEP 1: Measure the pocket opening on your clothing item.
STEP 2: Download the provided artwork, and size it to fit your garments pocket appropriately using your craft cutter's software. Cut the design using 3 different colors of vinyl—one color each for the flowers, flower centers and stems.
STEP 3: Press your garment before applying vinyl to create a smooth and even surface. Follow the manufacturer's instructions and apply the vinyl using an iron, beginning with the stems. Using a sheet of parchment paper or press cloth during this step helps prevent overheating.
STEP 4: Next apply the flower vinyl cutouts, ironing just long enough for the vinyl to adhere to the fabric. Avoid overheating during this step, since more heat will be applied in the next step.
STEP 5: Finally, layer the flower centers over the existing vinyl and press until adhered.
STEP 6: Voila!
Pillowcase variation: To create the pillowcase, allow your craft cutter to optimize the vinyl material when cutting. Then cut apart and arrange flower shapes on pillowcase in an organic pattern before ironing. Next add flower centers as outlined above and press.
P.S. To celebrate Mother's Day (and beyond), use OHD10 for 10% off your Purple orders. Discount code expires November 4, 2021. Have a Happy Mother's Day!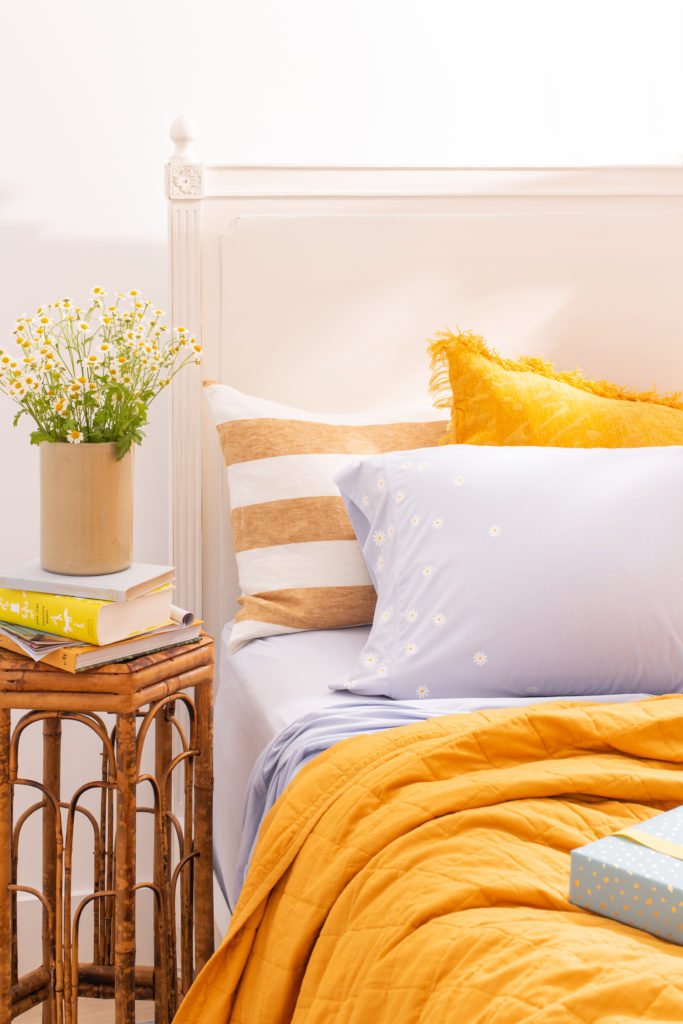 This post is sponsored by Purple.