Paris is typically a city of neutrals. When we were planning this team trip to Paris, we all joked that we would have to put away our "Oh Happy Day" wardrobe and stick to blacks and grays. So during our 10 days in the city, we made it our mission to find all the colorful spots that Paris has to offer! We created our own colorful guide to Paris in collaboration with FUJIFILM Instax®! We took the FUJIFILM Instax® SQUARE SQ10 cameras all around Paris and snapped pictures of beautiful bright cafes, murals, and storefronts. See what we found below!
This hybrid instant film-camera is awesome because you get the features of a digital camera,
with the ability to still print instant photos directly from the camera on square format
film. We love that you can take multiple shots and only print the best ones (because heaven knows sometimes we all need a do-over). We also enjoyed using the FUJIFILM Instax® SHARE SP-3 SQ printer. The printer is portable and connects to your phone wirelessly through the Instax SHARE app, so you can snap photos on the go then edit and print them. Such a fun way to capture and remember the trip!
All these colorful spots were so memorable to visit (and made for excellent photos!). Make sure to check them out next time you're in Paris:
Pink: La Maison Rose, 2 Rue de l'Abreuvoir, 75018 Paris, France
Red: Cafe Marcel, 23 Rue des Dames, 75017 Paris, France
Orange: La Cure Gourmande, 49 Avenue de l'Opéra, 75002 Paris, France
Yellow: Buci News, 4 Rue Grégoire de Tours, 75006 Paris, France
Green: Doors at 29 Quai de Bourbon, 75004 Paris, France
Indigo: Le Mur des Je T'aime, Square Jehan Rictus, Place des Abesses, 75018 Paris, France
Violet: Pigalle Basketball Court, 17 Rue Duperré, 75009 Paris, France
Rainbow: Rue Crémieux, 75012 Paris, France
Or, get our Google Map here!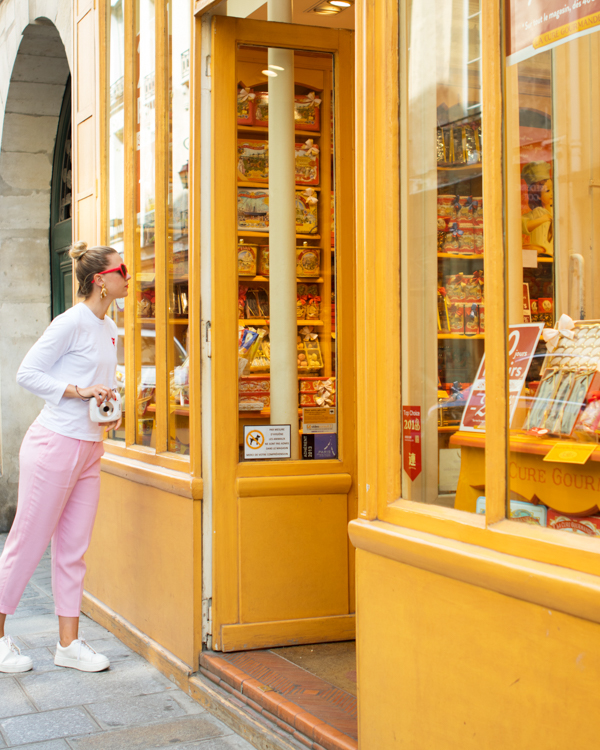 This post is sponsored by FUJIFILM Instax® 
Photos by Naomi Julia Satake and Andrea Ramirez