Raise the roof! Today, we're excited to partner with Behr®  as we make over the nursery of our shop manager, Andrea. When Andrea was pregnant, she decided not to find out the gender until the baby was born. As a result, she tended to shy away from bold color while she was designing the nursery, and stick with creamy neutrals. Now that her daughter, Emilia, has gotten a bit older, Andrea was excited to add a pop of color in one of Emilia's favorites: peachy pink! Painting the ceiling was the perfect way to add some flare while also keeping with the fresh, neutral feel of the room. Read on for more photos of the finished room!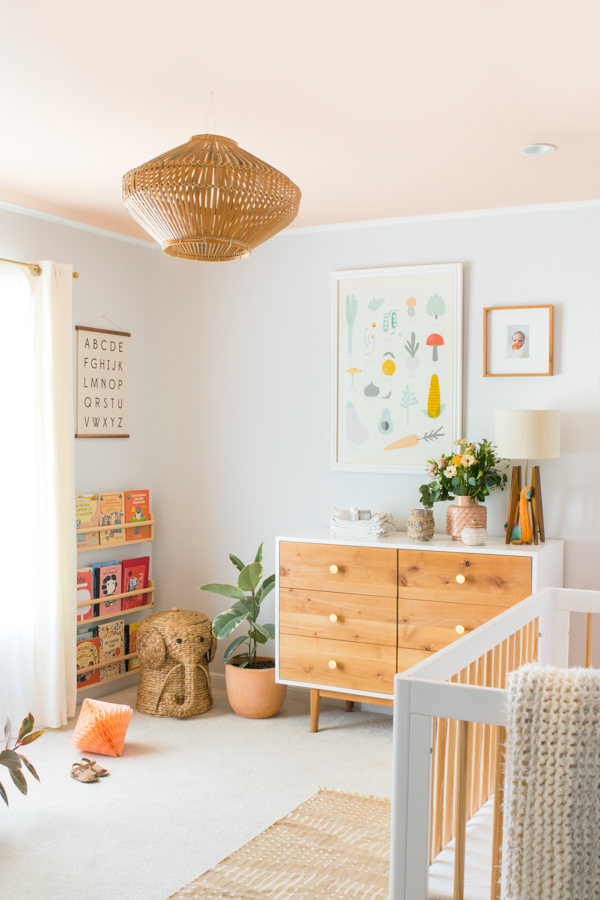 If you're anything like us, the idea of painting a room with bright color can seem equal parts daunting and exciting. That's why we love the idea of adding color to the ceiling for a quick refresh! This is an especially great tip for kids rooms! We used Fahrenheit on the ceiling in this nursery and love how the room still feels calm with a fun hit of unexpected color. You could even paint some furniture in the same color to finish off the space!
Have questions about your own painting projects? Let us help! On Wednesday, May 2 and Friday, May 4, we'll be live on Facebook to answer all your questions! The BEHR®  Color Clinic will go from 1pm – 3pm PST both days (psst… check out more details here!) Can't wait to see you there!
This post is sponsored by Behr® .
Photography by Naomi Julia Satake
Styling by Andrea Ramirez and Naomi Julia Satake