While I may be getting a bit tired of the winter season (it's COLD in here!), I can never get enough of winter food. Winter sustenance just always feels so comforting! At Oh Happy Day, we're all big fans of cheeseboards, so we decided to make an eclectic winter cheeseboard filled with all our winter favorites. Our shop manager, Andrea, made an absolutely gorgeous cheeseboard for her New Year's Eve party this year, so we borrowed a page from her playbook (and even her basket) to create our own version. Scroll down for the deets.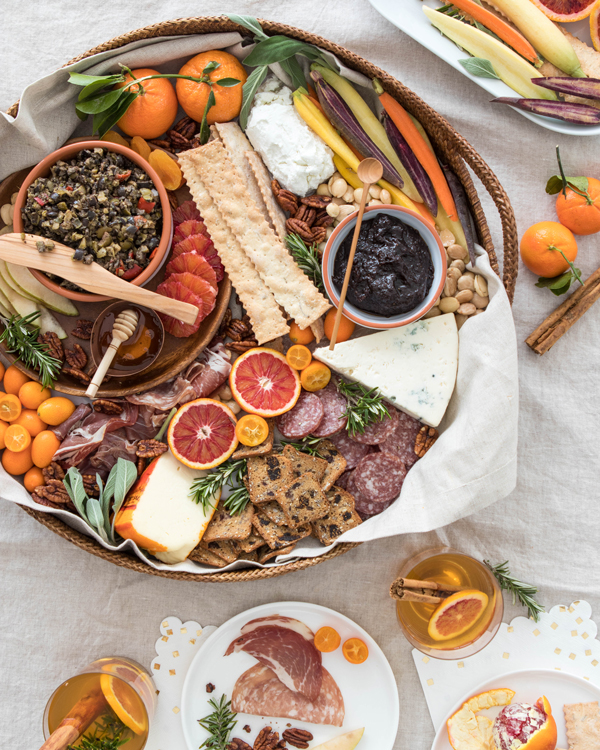 One of the greatest things about cheeseboards is that they're actually SUPER easy to make (and it's easy to keep the ingredients on hand). We spent about 30 minutes and $70 dollars on this cheeseboard, and it served about 8 people. We were able to get most of the ingredients at Trader Joes, but got few of the more specialty items at our local artisanal grocery store. You can see our shopping list below!
The Shopping List:
port salut cheese
goat cheese
blue cheese
prosciutto
sliced salami
fig and olive crisps
rosemary artisan crackers
blood oranges
kumquats
pears
tricolor carrots
olive tapenade
fig butter
honey
candied pecans
marcona almonds
dried apricots
fresh sage and rosemary
The key to top-rate snacking is to pick produce that is in season. Winter is a great time to enjoy citrus, root vegetables, and pears. You may not think of winter as the most colorful of seasons, but blood oranges, kumquats, and tricolored carrots add plenty of color to your cheeseboard (and taste delicious!)
1. Wood Plate, 2. Copper Bowl, 3. Terra Cotta Bowls, 4. Honey Dipper, 5. Round Coffee Spoons, 6. Linen Cloth, 7. Olive Wood Spreaders, 8. Basket
It can sometimes be tricky to know how to present your cheeseboard, but for this we really wanted the colors of the produce to shine through. So we picked simple, natural serving pieces. Layering serving pieces gives your cheeseboard added dimension, while also being useful for separating spreads and sauces.
Photography and styling by Sarah Kate Price
Assisted by Erica Kjos