I love having friends over for movie night. There's just something so cozy about enjoying a movie together in the dark, passing snacks and whispering inside jokes. Of course, popcorn is the star of the show — what would movie night be without it? Take your movie night to the next level with this popcorn balloon backdrop! Read on to see how we made it!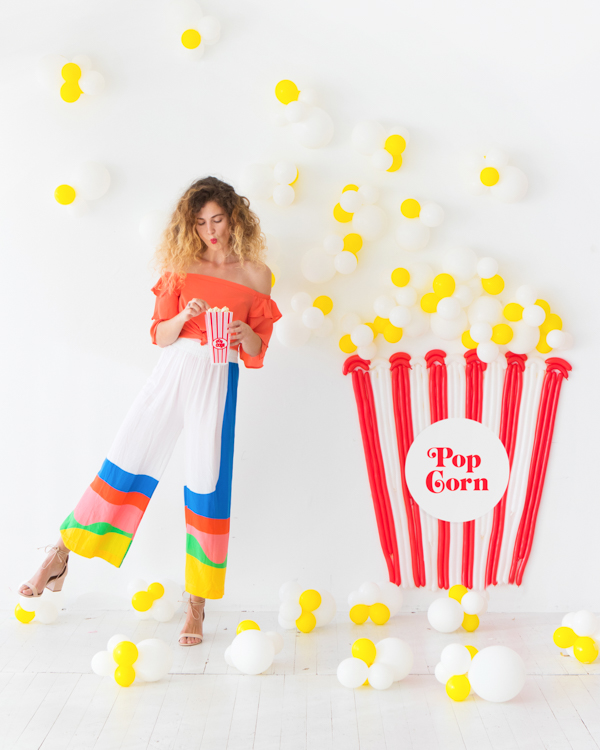 A popcorn balloon backdrop would be an excellent addition to an Oscar watch party! Don't forget to set up a concession stand and tiny red carpet!
Materials needed: Popcorn PDF, projector, pencil, 160Q balloons (in red and white), 11" balloons (in white), 5" mini balloons (in white and yellow),  mini balloon hand pump, scissors, double-sided Shurtape, large white cardstock, red cardstock
Step 1: Find an image of a popcorn container that you like and project it onto a large blank wall. Lightly trace the design with a pencil.
Step 2: Apply strips of double-sided Shurtape along and within the outline and peel of the paper backing.
Step 3: Inflate a bunch of red and white 160Q balloons. Release a bit of air from each balloon before knotting, so that the balloon has less tension, then trim off the balloon tails.
Step 4: Fill in the stripe design of the container. To make balloons to size, inflate a balloon to the length that you need, knot both ends, and trim off the leftovers. Inflate balloons to 4" long and tape to the top of the container for a more distinct scallop design.
Step 5: Time to make popcorn! Inflate an 11" white balloon until it is round in shape. Inflate five white and yellow 5" mini balloons in various sizes, ranging from small to smaller.
Step 6: Knot two small balloons together and tie to the tail of the larger balloon. Tie another set of balloons together then twist them around the initial set of balloons to form a cluster.
Step 7: Remove the paper backing from a piece of double-sided Shurtape, apply it to the back of the popcorn cluster, and stick to the wall. Repeat to fill the container and wall with popcorn.
Step 8: Cut a large circle out of cardstock. Print "popcorn" lettering on red cardstock, cut, and adhere to the white cardstock circle. Tape the sign to the center of the balloon container and you're done!
Crafting by Justine Pon