Favor bags ahoy! These striped giftbags would be perfect for Halloween or a pirate themed birthday party. It even has a tiny sword pick for closure!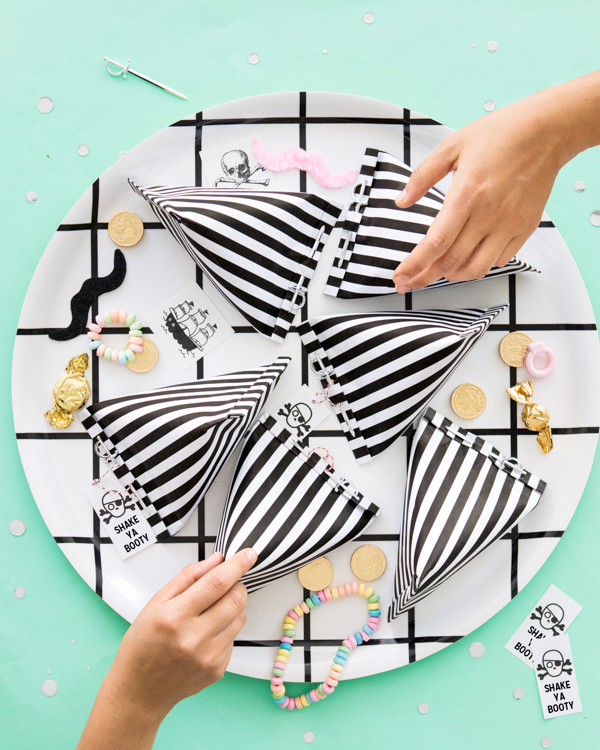 Fill them with a bunch of tiny treats and treasures! We filled ours with gold chocolate doubloons, piratey tattoos, and candy jewelry loot.
Materials Needed: Pirate stripe PDF, pirate gift tag printables, x-acto knife, hot glue gun, sword party picks, hole punch, twine, scissors, embroidery needle
Step 1: Print out the pirate stripe template on printer paper. 

Step 2:  Fold the paper to form a tube and hot glue the edge to secure.
Step 3: Fold the bottom of the tube ½" up twice then hot glue to secure. This will be the bottom of the bag.
Step 4: Fill the gift bag, then pinch the top of the tube in the opposite orientation of the bottom of the bag. Fold down the top twice.
Step 5: Use an x-acto knife to carefully cut two slits on the top fold. Insert a sword party pick through the slits to close the bag.
Step 6: Print out the pirate gift tags and cut out. Punch a hole at the top of the tag and thread twine through it. Use a needle to pull the twine through the slits at the top of the bag, then knot to secure. Trim off any extra twine. Time to get your pirate party started!
Crafting by Justine Pon