'Tis the season for the spooky and scary. We were inspired by this hanging balloon installation we made a few months back and decided to make a frightful variation where the balloons look like snakes (Agh!) It's very reminiscent of Medusa, no? This decor will be sure to make a splash at your Halloween party!
Materials Needed: Large foam core board, pencil, x-acto knife, 160Q long balloons (in shades of green), mini balloon hand pump, black marker, cardstock (in pink), scissors, low temp hot glue gun, 3m ceiling hooks, twine, gaffers tape
Step 1: Use an x-acto knife to cut a foam core board in half, horizontally. Use a pencil to mark equidistant holes horizontally across the foam core and vertically down the foam core. Our marks were about 3" apart. Use these markings as a base to continue creating a grid of dots on the board, while offsetting each row.
Step 2: Cut a small "x" with an x-acto knife at each pencil mark.
Step 3: Blow up and knot a bunch of 160Q balloons. Release a bit of air from the balloons before knotting, then curve the balloons to make them look like snakes.
Step 4: Cut pink cardstock into ¼" by 2" strips. Cut the end of a strip to make it look like a snake tongue. Fold back ¼" of the tongue to make a tab and hot glue it to the front of the balloon. Then draw on dots for eyes with a black marker. Repeat for the rest of the snakes.
Step 5: Pull the balloon tails through the small holes in the foam core until the knot pops all the way through. Repeat until the board is filled.
Step 6: Measure the width and length of the two pieces of foam board. Mark the measurements of the four corners of each board on the ceiling with a pencil and attach a 3M ceiling hook to each mark. Tie twine to the hooks and tape the ends to the foam board to hang them up. You're done!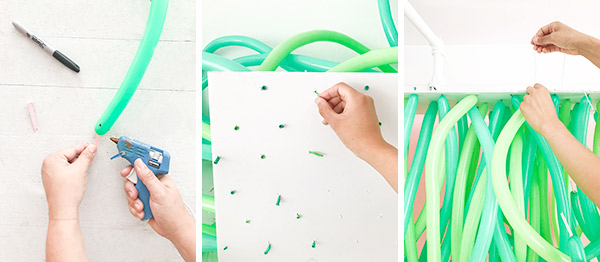 Crafting by Justine Pon