Today, we're excited to partner with Spin Master to throw a glittery kids party featuring Hatchimals Glittering Garden! If you haven't heard of Hatchimals, you just need to ask your local neighborhood 6-year-old, because they're everywhere. 😉 This is a really fun theme for a child's birthday party – we focused on ombre rainbow elements to bring it to life. Read on to see how we planned the whole garden party, complete with a special photo backdrop!
Since Hatchimals Glittering Garden come in an array of pastel colors, we used this as our starting point for planning the party. Ombre plates and napkins are the perfect colors. We mixed them with mini disco balls, pastel treats, iridescent confetti, and of course some glitter. Since Hatchimals come (and hatch!) from eggs, we also added a rainbow selection of miniature eggs! Then, we made our own ombre photo backdrop (DIY below!).  To add a playful nod to the Hatchimals egg, we filled plastic eggs with egg-shaped candies to give out as favors.
Ombre Backdrop
Materials needed: White tablecloth, spray paint (in rainbow colors), gaffer's tape
Step 1: Lay your tablecloth on a flat surface. Lay paper underneath the tablecloth so you can spray to the very edges.
Step 2: Starting on one end, spray a rectangle of color with a feathered edge. Spray the next color beside the first, overlapping the colors on the edges. Continue spray painting, gradually blending the colors that are next to each other to create an ombre effect. You can also add glitter if you like!
Step 3: Let dry in a well-ventilated area and hang up on the wall with gaffer's tape. You're all done!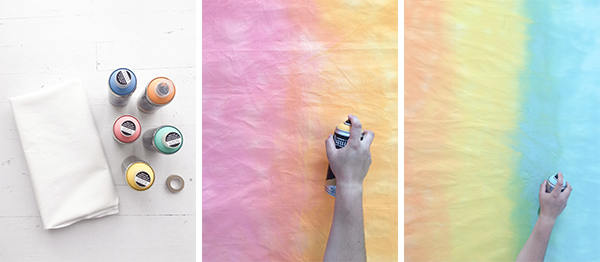 Hatchimals Glittering Garden are magical furry creatures that progress from baby to toddler to full grown as a child cares for them. They come in a shimmering egg and as you play with it, they hatch their way out. It's actually really fun to watch! We weren't sure which Hatchimal would be inside our egg, but the kids were convinced it was going to be pink (they were right!). We were inspired by the colors and shimmer of the Sparkling Penguala (the creature that hatched from our egg) and used this as a base for decorating our party. You can get your own Sparkling Penguala or Shimmering Draggle at Toys R Us.
This post is sponsored by Spin Master.
Photography and styling by Amy Moss
Crafting by Erica Kjos
Thanks to little Z for modeling!