One of our favorite things about Instagram Stories are the stickers! We've been overusing the 'like' sticker for a few weeks and decided to make it come to life as a giant piñata! This is a great idea for a birthday party. Print out some "comments" from friends and add them inside with candy – you could even print out and add your favorite Instagram photos!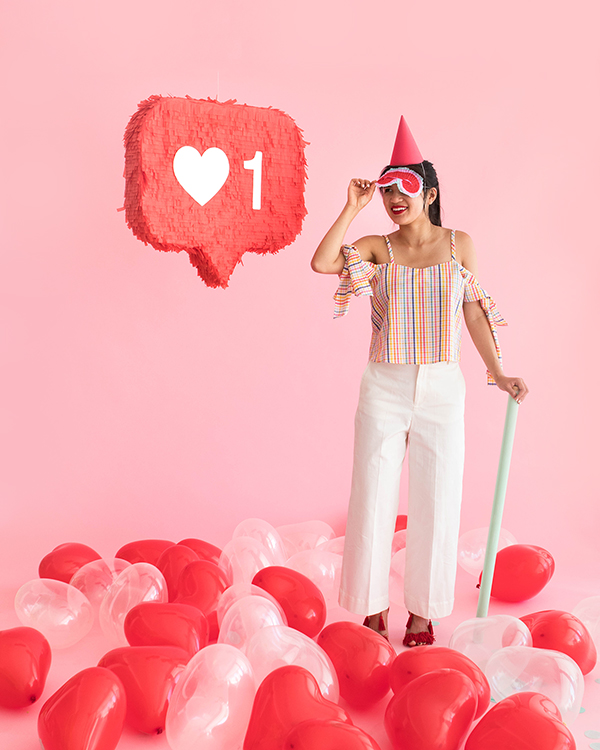 Materials needed: Large pieces of cardboard, pencil, ruler, x-acto knife, packing tape, tissue paper, fishing wire, hot glue gun, printable template PDF, white cardstock, scissors
Step 1: Sketch the icon shape onto a large piece of cardboard with a pencil, using an image for reference. Ours measured 23" at the longest point  by 24" wide.
Step 2: Cut out the shape with an x-acto knife. Then, trace the cut-out on another piece of cardboard and cut out, for a mirror image. Lay the two pieces on top of each other and trim until even.
Step 3: Cut long, 4" wide strips of cardboard to attach between the two sides. Tape the strip along the outer edge of the cut-out. Crease the cardboard so it bends easily around the curves of the shape. Then, tape the mirror image on the other side. Be sure to leave a trap door so you can fill the pinata with goodies!
Step 5: Make a small "X" with an x-acto knife on the top of the pinata. Cut a piece of cardboard about 3" by 3" and cut a small "X" on that, too. Cut a piece of fishing line about 30" long, then thread both ends through the two holes, leaving the loop exposed and the cardboard square inside of the pinata. Tie the ends together and tape to the square piece.
Step 5: Cut a bunch of fringe out of tissue paper with a ruler and x-acto knife. Our fringe was roughly 2″ tall and 1 cm wide.
Step 6: Hot glue fringe to the pinata, starting from the bottom of each side and working your way up.
Step 7: Print out two copies of the Instagram detail PDF onto white cardstock. Cut out the images and glue onto the pinata. Repeat for the other side.
Step 8: Cut strips of paper for guests to write comments on, or print the comments onto cardstock in advance. Fill the pinata with the comments then tape the trap door shut when you're done.
Photography and styling by Sarah Kate Price
Crafting by Naomi Julia Satake and Justine Pon
SHOP THIS POST: Top, Heart Balloons, Giant Confetti, Party Favors