We've been playing around with these twisty balloons and realized it was so easy to make pretzels. The pretzels are so iconic and fun we decided to make a whole party out of them. This would be fun for a party theme, snacking should be celebrated more often anyway. Just dip them all in mustard and you're ready to go. HA!
When we were making these we decided to make a lot because they are really simple and its so easy for decorations to feel underwhelming. When you fill a room then it makes a big impact for a party. Happy Snacking!
Materials needed: 350Q Balloons (in orange), balloon hand pump, scissors, low temp hot glue gun, white acrylic paint, paint brush, double-sided Shurtape
Step 1: Inflate two 350Q orange balloons to full-size. Let some air out of both balloons so they have less tension before knotting them off. Tie the two balloon knots together to form one long balloon.
Step 2: Curve both ends up to form a round shape and overlap the ends by about 6 inches. Grasp where the balloons intersect and twist them together a few times to create a pretzel shape.
Step 3: Apply hot glue to one of the balloon ends and attach to the inner curve of the pretzel. Make sure to hold the balloon in place until the glue is completely cooled (about 30 seconds). Repeat for the other balloon end.
Step 4: Paint salt onto the pretzels with white acrylic paint and a paintbrush. Let the paint dry completely before taping the pretzels to the wall with pieces of double-sided Shurtape. Salty never looked so sweet!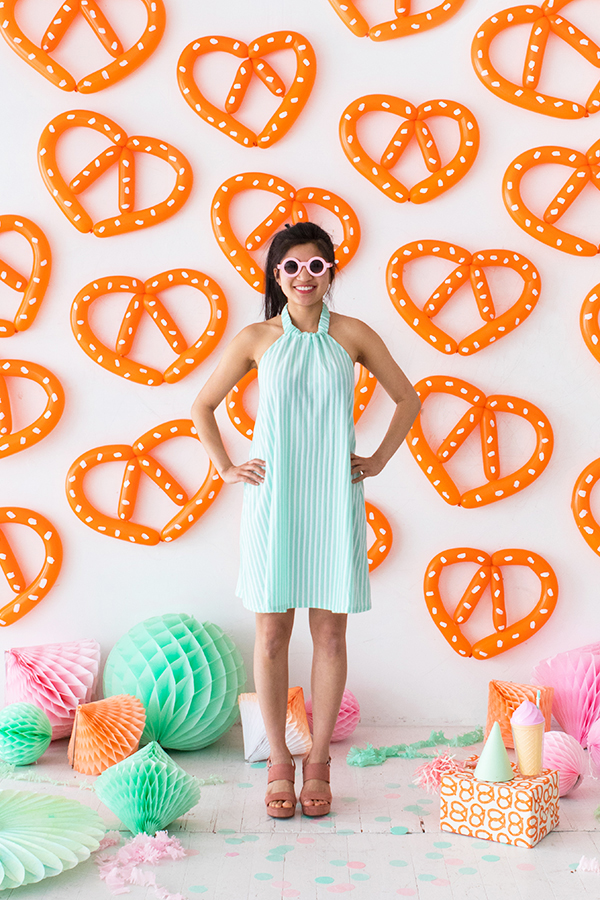 Photography & Styling by Alison Piepmeyer
Crafting by Naomi Julia Satake & Justine Pon
SHOP THIS POST: Dress, Sunglasses, Pretzel Gift Wrap, Ice Cream Tumblr, Honeycombs, Paper Fan, Giant Confetti