We've been playing so much with washi tape lately. (Remember this stripe wall?) We thought it would be nice to spruce up a paper tablecloth. A tablecloth is one of the first things you see when you are looking at a party set-up. So we made a graphic and punchy pattern that really sets the tone for the design of the whole party. We used a medium sized roll but it would be pretty with a thin washi tape as well.
A washi tape table cloth is an easy way to add a custom detail to your party but it doesn't break the bank.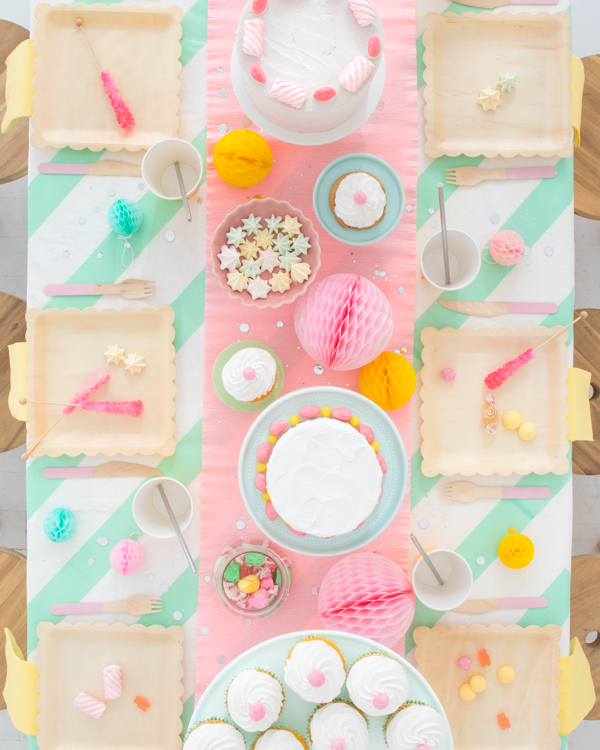 Materials needed: White tablecloth, cardstock, ruler, scissors, 2″ mint washi tape
Step 1: Cut out a 4" guide using a sheet of cardstock.
Step 2: Lay out your tablecloth on a big, flat surface. Place your guide at a 45 degree angle on the corner of the tablecloth and begin placing your washi tape along the edge.
Step 3: Repeat until you have completely covered tablecloth. Trim any remaining ends of tape and you're finished!
Styling and Photography by Naomi Julia Satake
Crafting by Erica Kjos
SHOP THIS POST: Paper Fans, Triangle Garland, Two-Toned Paper Lanterns, Round Honeycombs, Mini Honeycombs, Blue Cake Stand, Cupcake Stand, Plates, Cups, Straws, Cutlery