I have two little boys so coming up with party themes with them is one of my favorite things. My 7 year old is obsessed with paper airplanes lately and I thought that would make such a great party theme. So we put together inspiration for a paper airplane party. For a game you can even do a contest to see how far the kids can throw their paper airplanes. From cake toppers to party decor this theme is one of my favorites.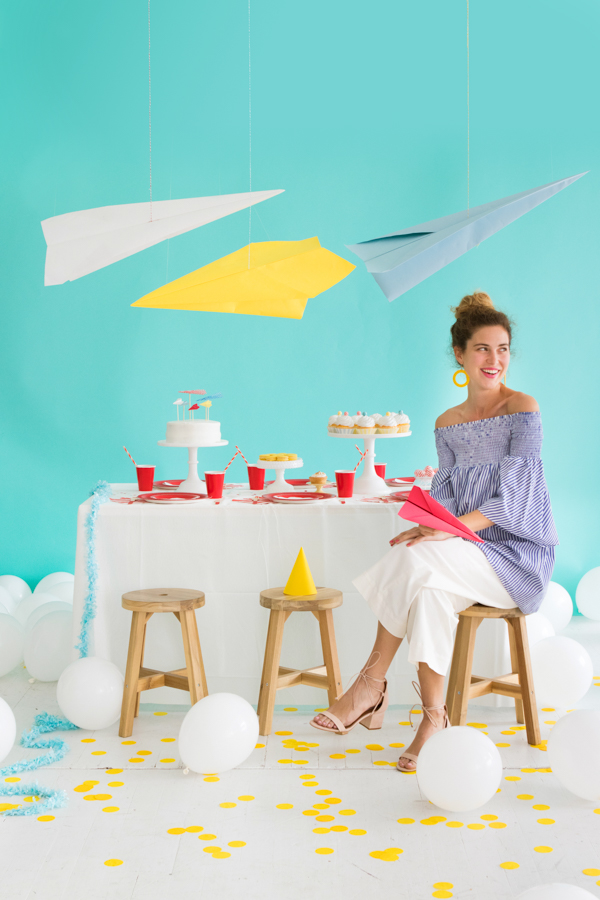 Giant Lined Paper Airplane
Materials needed: Giant roll of white paper, masking tape, x-acto knife, yardstick, pencil, markers (in light blue, red, and gray), boning tool, hot glue gun, sewing needle, white thread, scissors, gaffers tape, twine
Step 1: Unroll the paper and tape the edges to the floor with masking tape.
Step 2: Scale the size of an 8 ½" x 11" sheet of paper up as big as you can get from your roll of paper. With our 53" roll of paper, the length was 69".
Step 3: Lightly draw a horizontal line with ruler and pencil, 10 inches from the top of the paper. Repeat for the rest of the paper, separating each line by about 3". Trace over these lines with a light blue marker.
Step 4: Draw a vertical line 10 ½" from the left side of the paper in pencil. Trace over the line with a red marker.
Step 5: Draw 3 evenly spaced circles in pencil for binder holes. Trace with a gray marker.
Step 6: Flip the paper over and repeat a mirrored image of Steps 3-5.
Step 7: Fold your lined paper into a classic paper airplane. Use a boning tool to get sharp creases. Add a bit of hot glue between the folds of tip and end of the airplane and press the folds of the paper together to secure.
Step 8: Draw a long wavy banner shape on a new sheet of paper and cut out with scissors. Write your message on the banner in marker.
Step 9: Thread a needle through the airplane in the front, and knot. Affix with tape if necessary. Attach the opposing end of the thread to the ceiling with gaffer's tape. Repeat for the back of the plane, and both wings.
Step 10: Repeat the threading process with the banner. Hot glue a piece of twine between the plane and the banner so it looks like the plane is towing the banner. You're ready for take-off!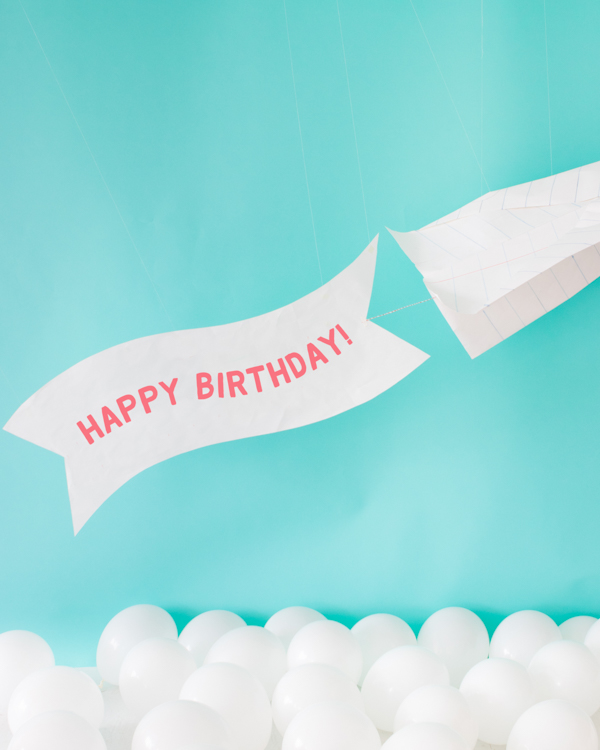 Photos and styling by Naomi Julia Satake
Crafting by Justine Pon and Erica Kjos
SHOP THIS POST: Top, Pants, Plates, Cups, Cutlery, Cloud Napkins, Stripe Napkins, Party Blowers, Mini Airplanes, Globe Candy, Globe Yo Yo, Mini Beach Ball Candy, Stripe Favor Bags