Our obsession with long balloons continues with this Valentine's Day backdrop. We've taken a multi-colored approach to the traditionally monochromatic holiday and fashioned giant iconic hearts, out of long balloons, across a wall that can be used either as a photo booth or food table backdrop for your party!
I love the fact that long balloons are so versatile! Whether you're creating balloon animals or a graphic photo booth backdrop, you can always count on them to elicit fat smiles and mucho merriment from your guests! Also, they're super affordable and come in a range of fun and bright colors.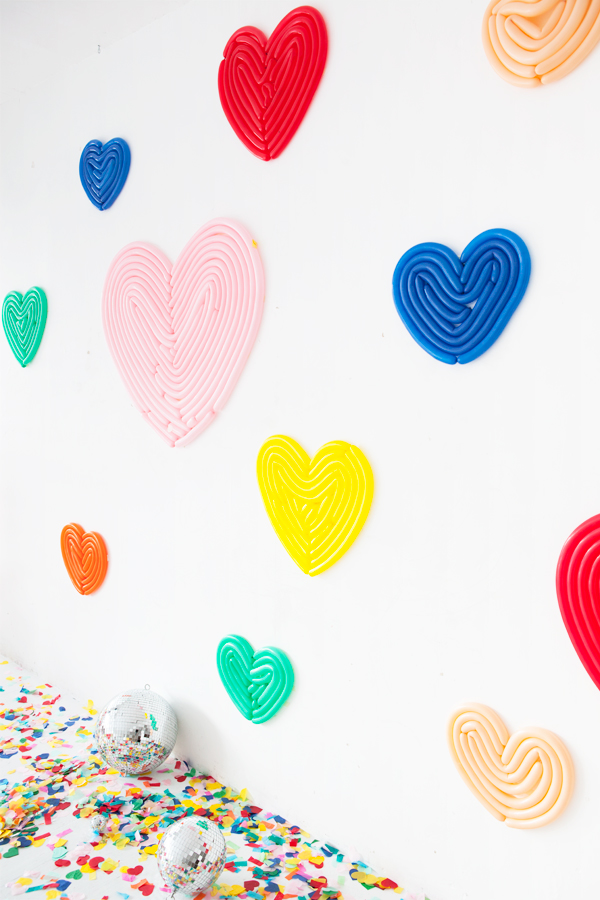 Materials Needed: pencil, 160Q long balloons in various colors, mini balloon hand pump, double sided Shurtape
Step 1: Inflate a bunch of 160Q long balloons. Release a little air from each so they have a little more flexibility.
Step 2: Lightly sketch hearts on the wall with a pencil.
Step 3: Apply horizontal strips of double-sided Shurtape within the heart shapes. Leave 2-3 inches between each strip. You can substitute the Shurtape with loops of gaffers tape if you prefer.
Step 4: Starting with the outer edge of the heart, line the shape with long balloons. Pinch and twist the balloon at the sharp turn to create a more distinct point.
Step 5: Continue Step 4 until the heart shape is filled with balloons. You can cut balloons to size by inflating a balloon to the length that you need, knotting both ends, and trimming off the leftovers. Make a many as your heart desires!
SHOP THIS POST: Striped Jumpsuit, Heart Balloons, Disco Balls, Heart Confetti
Styling and photos by Amy Moss
Crafting by Naomi Julia Satake & Justine Pon