I love Valentine's Day! I'm squarely in the "Valentine's is not just for lovers" camp. It is my favorite holiday to show everyone in my life how much I love them. Today, we've partnered with The Hershey Company to share a few sweet DIY gifts to give friends on the Day of Love using new HERSHEY'S Cupcake KISSES Candy, which are available exclusively at Target. 
Idea 1: Make a Conversation Heart Sweatshirt that says anything! The beauty of this is you can customize it to whatever message your heart desires.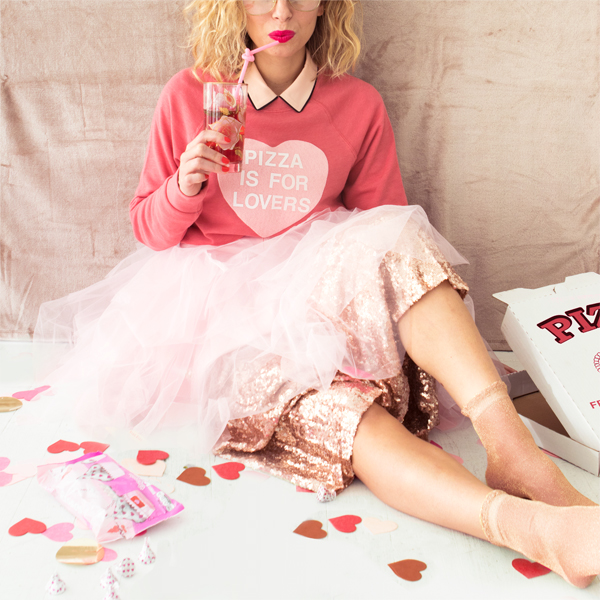 Conversation Heart Sweatshirt
Materials Needed: Colorful cotton sweatshirt, felt (in different shades of pink), scissors, Steam-A-Seam fusible web, white iron-on letters in Helvetica
Step 1: Stick a sheet of Steam-A-Seam web onto the back of your colorful felt.
Step 2: Cut out a heart about 8" wide out from the felt. It may help to trace the shape on the back of the web first!
Step 3: Remove the remaining backing from the fusible web, then iron the heart, web face down, onto the sweater.
Step 4: Arrange your phrase in the middle of the heart. Once you're ready, iron on the letters using the instructions on the package! So simple! Pair with HERSHEY'S Cupcake KISSES Candy for the perfect gift.
Idea 2: Down with Love, Up with Chocolate! These make out boxes (filled with HERSHEY'S Cupcake KISSES Candy which taste like cupcakes with bits of pink cookie) are great gifts for the people in your life who would rather make out with chocolate. They're not mutually exclusive! These also make great place cards at a Valentine's Day party.
Cupcake Kisses Gift Boxes
Materials needed: HERSHEY'S Cupcake KISSES Candy, small plastic box, color cardstock, mirrorboard, scissors, glue stick, tape, ribbon
Step 1: Fill a small box with HERSHEY'S Cupcake KISSES Candy.
Step 2: Cut two 1/2" by 11" strips out of cardstock. Write a fun message on each strip (or print them out in advance!)
Step 3: Glue together the plain sides of the two strips. Allowing 1-1/2" of space before and after the text, trim your message strips. Trim one end at a 45 degree angle, separate, and fold into ½" tabs. This will be used for the end of the arrow.
Step 4: Collect a remainder from the ½" strip and trim it to 2-1/2″ in length. Trim one end at a 45 degree angle, separate, and fold into ½" tabs. This will be used for the head of your arrow.
Step 5: Cut two matching arrowheads out of mirror board. Glue back to back onto the exposed edge of the 2-1/2″ strip.
Step 6: Cut two arrow ends out of colored cardstock. Fold the arrow end in half, then, use scissors to add fringe along the diagonal edge. Glue back to back onto the exposed edge of the arrow end.
Step 7: Tape the tabs of both arrow pieces onto opposing sides of the box.
Step 8: Cut and tie a ribbon around the box. Time to pass out these sweet gifts!
Idea #3: Time to award your friends and lovers for the all the reasons you love them. "World's Best Lover" or "1st Place Kisser" are my favorites. You can pair these with a little baggie filled with HERSHEY'S Cupcake KISSES Candy!
Award Ribbons
Materials needed: Color cardstock (play around with different prints and textures!), scissors, stapler, 1" ribbon, hot glue gun
Step 1: Cut out a 3" by 6" rectangle from cardstock. Then, cut out a 2" round in a different color.
Step 2: Fold the rectangular cardstock accordion-style, leaving a little extra paper at the beginning and end. The folds should end in the same direction they started.
Step 3: Scrunch your folded cardstock and knot twine around the middle point of the cardstock. Trim the extra twine.
Step 4: Using the midpoint as your guide, join the two opposite ends of the cardstock and staple as close to the edge as possible. This will form one half of a rosette. Repeat on the other side.
Step 5: Re-crease any folds that need more definition.
Step 6: Write a fun message onto the 2" round and hot glue it to the center of the rosette.
Step 7: Cut a piece of ribbon about 10" long. Loop the ribbon so that both ends face the same direction. Secure with hot glue. Hot glue the loops of the ribbon to the back of the rosette. Trim ribbon to create pointed ends.
Step 8: Hand out your ribbons to a friend, or use a quilting pin to turn these ribbons into wearable pins!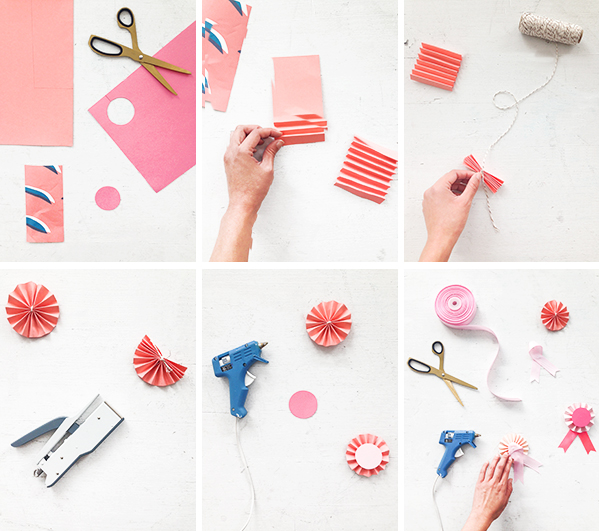 This is a sponsored conversation written by me on behalf of HERSHEY'S. The opinions and text are all mine.
HERSHEY'S Cupcake KISSES Candy: Exclusively at Target!
Styling by Amy Moss & Naomi Julia Satake
Crafting by Naomi Julia Satake & Justine Pon