Taking inspiration from our holly balloon sticks project from last year, we came up with these miniaturized versions that can be used as striking gift toppers for your holiday presents! Continue to find out how we made them!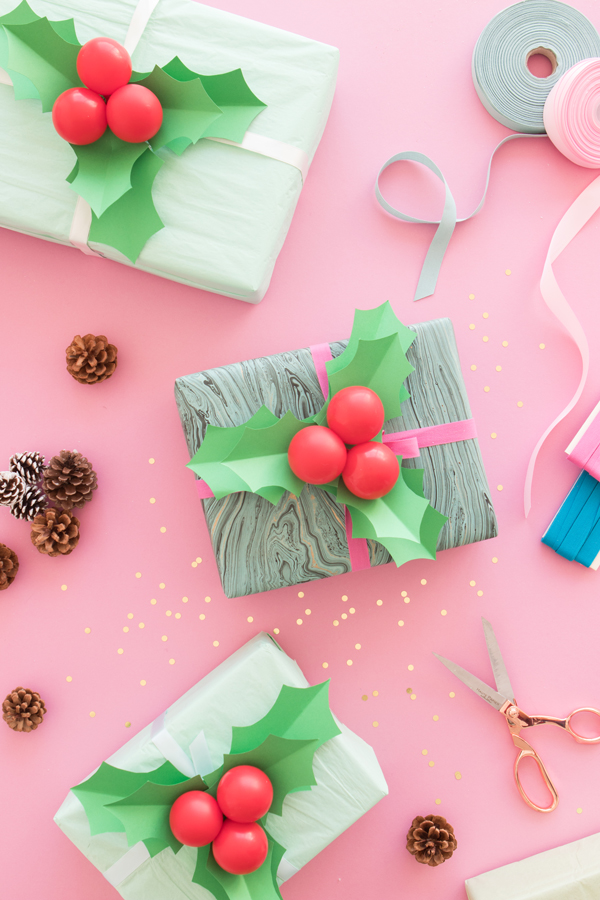 Materials needed: Holly leaf template, green cardstock, scissors, stapler, 1/4″ single hole punch, 5″ mini balloons in red
Step 1: Print out the holly leaf template.
Step 2: Use the template to cut out both the large and small leaves out of green cardstock. You will need three small leaves and three large leaves per gift topper.
Step 3: Cut a 2" slit at the bottom of the small leaf. Overlap the split ends of the leaf. Your leaf will start to take on a cupped shape. Place the small leaf on top of the big leaf and staple. Punch a hole at the bottom of the leaf bunch. Repeat for the remaining leaves.
Step 4: Inflate your mini balloons about 1.5″ in diameter. You want your balloons to be small and round. Pull the tail of one balloon through the holes of the 3 leaf bunches. Repeat with the other balloons.
Step 5: Attach the finished gift topper to your present for the holly-days!
Pink Christmas tree from Treetopia 

Styling by Naomi Julia Satake
Crafting by Justine Pon