Holiday parties are the BEST. I've been wanting to throw a Holiday Progressive Dinner Party for a few years now. You get 3-4 friends that live nearby and everyone hosts a course. Today we've partnered with Barefoot Bubbly to style this Progressive Dinner. I love the idea of going to several different houses for each course. You get to see how everyone has decorated for the holidays! See the whole post below and we've also included the recipe for a super easy and delicious Sorbet Float!
One of the best parts of a Progressive Dinner Party from a host's perspective is you only have to prepare one course. Its not overwhelming. I also love that there is a nice movement to the party. You are forced to move from house to house instead of hiding in the corner at one party.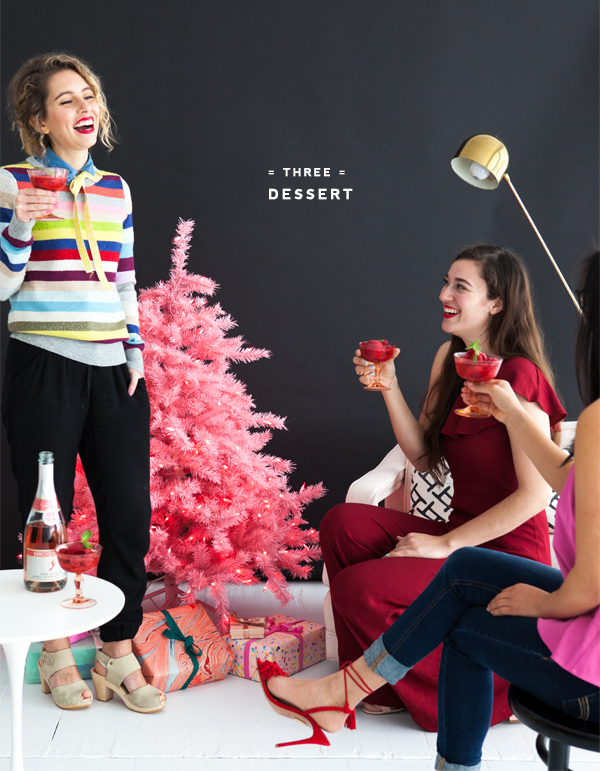 Raspberry Grapefruit Sorbet Floats 
For the Sorbet (Makes about 1 quart, enough for 4-6 servings):
1/2 cup grapefruit juice
2/3 cup white granulated sugar
1/4 cup water
2 12oz bags frozen raspberries
Pour the grapefruit juice, water, and sugar into a pot and bring to a boil on the stove. Stir continuously until the sugar has dissolved (make sure it doesn't burn!) Alternatively, you can add the grapefuit juice, water, and sugar in a heat-proof bowl and microwave in 30-second spurts (stirring between) until the sugar is dissolved.
Set in the refrigerator for about 30 minutes to chill completely.
In a food processor or blender, pulse together the raspberries. Then add the syrup and process until it all comes together and is smooth and luscious. Transfer to a container, cover with plastic wrap and freeze until firm (at least a couple of hours.)
For the Float:
Scoop a couple of scoops of the sorbet into a glass and top with Barefoot Bubbly Pink Moscato.
This post is sponsored by Barefoot Wines Bubbly. 
Video by Paul Ferney for Oh Happy Day
Styled by Amy Moss and Alison Piepmeyer
Recipe by Billy Green