Here's a fun DIY I've been wanting to try for a while. Christmas trees are the same shape as party hats, so it makes sense to combine the two! These funny hats are perfect for holiday parties, family dinners or anytime that friends will be gathered together during the holiday season.
You can either make a bunch for guests to wear when they arrive – or provide supplies for them to decorate their own. We used pipe cleaners, mini pom poms and string to create the trees seen here. Merry Christmas!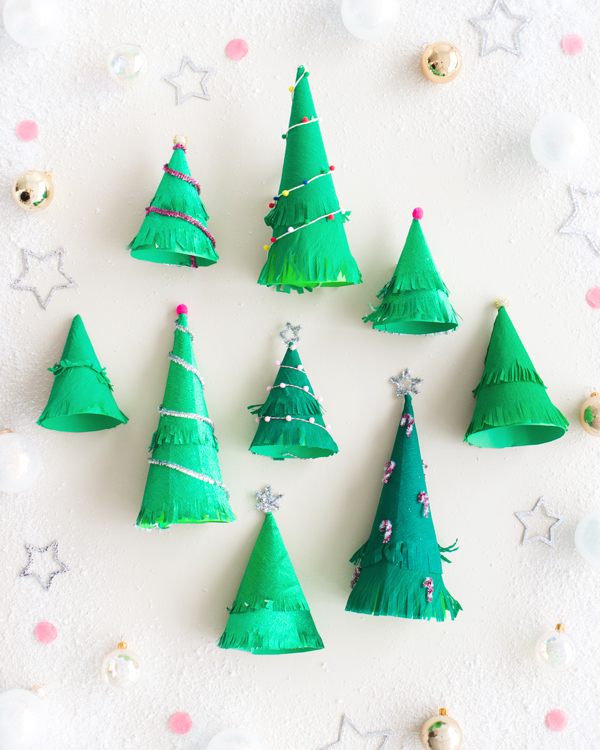 Materials needed: Party hat template, green cardstock, scissors, green crepe paper, hot glue gun, elastic, mini pom-poms, hot pink pipe cleaners, stapler
Step 1: Download the party hat template and print onto green cardstock. Cut out and assemble.
Step 2: Using a second party hat template as your guide, trace and cut the shape out of green crepe paper. Trim off the tab section, you won't be needing it.
Step 3: Fringe along the curved edge using a pair of good scissors.
Step 4: Wrap the crepe paper around the cardstock hat and secure with hot glue.
Step 5: To make a tiered tree, cut out another party hat shape out of crepe paper and trim the curved edge an inch or two shorter. Create fringe, then wrap the crepe paper around the top half of the tree and glue in place.
Step 6: Decorate your trees. We made mini pom-pom and twine light strands, tiny pipe cleaner candy canes, and sparkly pipe cleaner tinsel for ours.
Step 7: Staple elastic to the sides of the hat and wear!
Styling by Naomi Julia Satake
Crafting by Justine Pon