Today's DIY is super quick and easy. These giant Jack O'Lantern Balloons make perfect, last-minute Halloween decorations to hang around your house or party. All you need are 3′ balloons & black paper! They're great for kids to decorate themselves (without the mess of real pumpkins). Pair them with these Giant Ghost Balloons!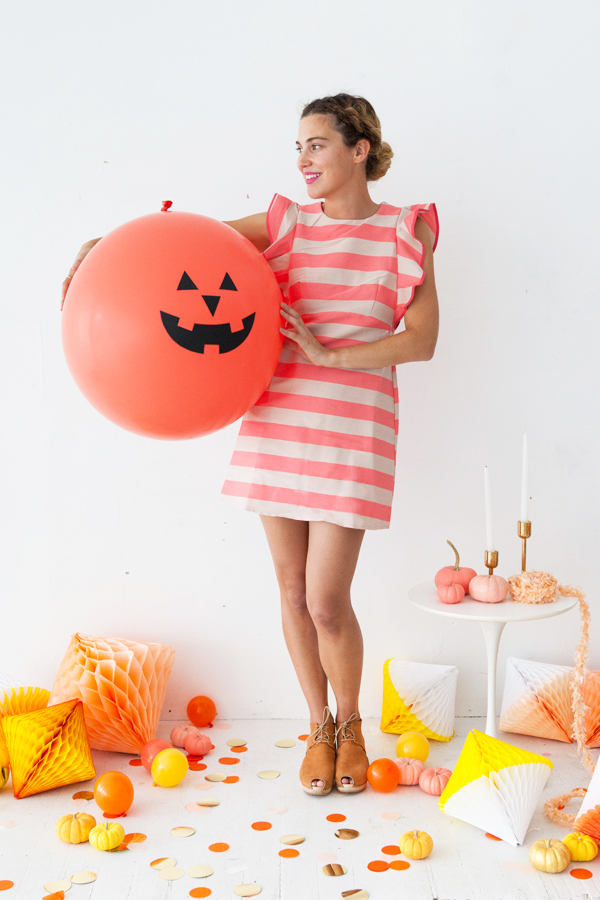 Materials needed: Black Cardstock, Scissors, 3' Balloon (we used orange, coral, and goldenrod), Balloon Hand Pump, Aleene's Tacky Glue Quick Dry, Fishing Wire, Gaffers Tape
Step 1: Cut a jack o' lantern face out from black cardstock.
Step 2: Inflate the 3' balloon with the hand pump. 
Step 3: Making sure the balloon knot is facing up, glue on the pumpkin face to the center of the balloon.
Step 4: Tie fishing wire around the balloon knot and tape to the ceiling!
SHOP THIS POST: Striped Dress, Clogs, 2-Tone Honeycomb, Large Honeycomb, Medium Honeycomb, Giant Confetti, Festive Festooning, 3′ Balloons, Mini Balloons
Styled by Alison Piepmeyer, Assisted by Jaqueline Draper
Crafting by Naomi Julia Satake and Justine Pon