The only thing better than cupcakes is RAINBOW CUPCAKES! Today we partnered with Land O'Lakes® to show how you can brighten someone's day by mixing all these colors and making rainbow cupcakes. I'm obsessed with playing with different hues of the same color. (A dark pink next to a light pink looks so pretty!). You'll need a lot of frosting bowls for this, but the results are totally worth it.
We like using Land O'Lakes® Butter for this recipe because it's made with simple ingredients. Although it requires a bit more effort to make nine colors of frosting, it's a fun way to make someone smile. Give them away to your neighbors as a gift, bring them to the office to pass out to co-workers, or surprise your kids with a fun afternoon snack.
Rainbow Buttercream Frosting Recipe
Materials: Ice Cream Scoop or Disher (2oz size), 9-10 piping bags with 1 1/4″ of the tip snipped off, Gel Food Coloring in yellow, red, and blue (you won't get vibrant colors with regular food coloring you get at the grocery store; instead, go to place with cake supplies, like Michael's or Jo-Ann's)
Makes about 6 cups, enough to frost 36 cupcakes
Recipe:
2 cups, 4 sticks, Land O Lakes® Unsalted Butter, softened by setting out on the counter for a couple of hours
2 teaspoons vanilla extract
1 teaspoon coarse kosher salt (or 1/2 teaspoon if it's a finer table salt)
8 cups powdered sugar, sifted (measure first then sift)
1/4 cup heavy cream
*yes, this makes a lot of buttercream, but that's okay! We've got a lot of colors to make for the rainbow effect, and it never hurts to have a little extra for the occasional, "What was I thinking when I piped that cupcake?!" If it seems like too much, then you can scale it down – just remember that for every stick of butter, you need 1/2 teaspoon vanilla extract, 1/4 teaspoon coarse kosher salt, 2 cups of powdered sugar (sifted), and a tablespoon of heavy cream.
In the bowl of a stand mixer fitted with the paddle attachment, cream together the Land O Lakes® unsalted butter, vanilla extract, and salt for a full minute until light, pale, and fluffy.
With the mixer on low, add the powdered sugar in two or three batches so it doesn't cover every inch of your countertop. Once it's all incorporated, turn the mixer to high speed and beat for two minutes until light and fluffy. Stop and scrape down the buttercream halfway with a rubber spatula to make sure it's evenly mixed.
After the full two minutes add the heavy cream and beat for another full minute. Now we're ready to rock n roll.
To tint the rainbow colors we're going to get some help by making a few master colors first. Grab three bowls and use an ice cream scoop (or disher) in a 2oz size and scoop three heaping scoops into two of the bowls and four heaping scoops into the third.
Tint the bowl with the four scoops yellow and set aside. Tint the other two red and blue. (It's going to take a decent amount to tint the darker colors, so don't be surprised!)
Next, use the scoop to transfer two of the scoops of the red to a piping bag, and two of the blue to another, cleaning the scoop in between. Then scoop one of the yellows into each of the bowls with the remaining scoops. Mix together to get orange and green (you might need to add more yellow to achieve the right shades). Transfer each of the frostings to a piping bag.
Now all we technically need is purple to complete the rainbow, but we're going to add pink, light blue, and light green to the mix as well. Use the scoop to measure out two heaping scoops for each color and use the gel colors to mix them up. Just a small amount of red for the pink, a small amount of blue for the light blue, more yellow and a little bit of blue for the light green, and red and blue for the purple (this seemed to be the trickiest to mix together – just use a little at a time).
Once every color's in a piping bag, you can make more colors if you want or transfer the remaining white frosting to another piping bag. Pipe away! Practice a couple of times with the white frosting first then go in with each of the colors. Each one should cover three cupcakes, depending on how much you pipe on.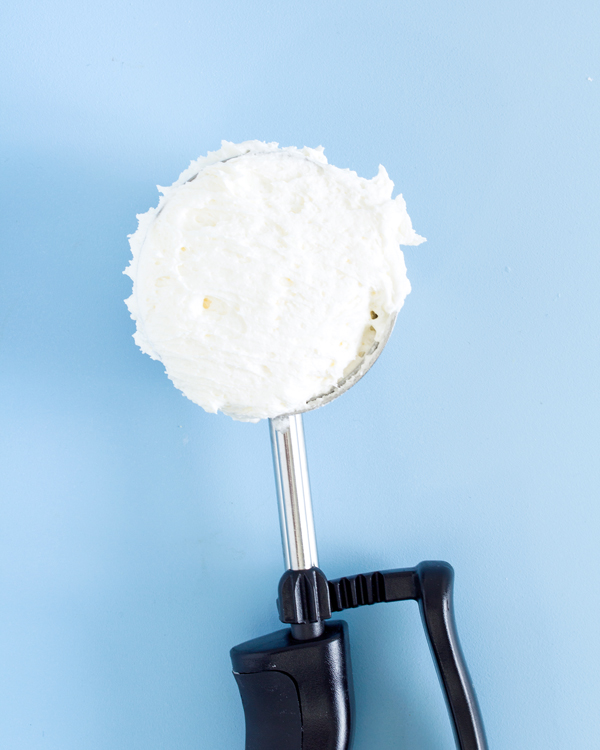 Good is easy if you just start small. A little can change it all. Learn more from Land O Lakes®
Photography & styling by Billy Green.