This party backdrop was so fun to make and seriously easy and inexpensive. The whole thing is made out of balloons! I was inspired to make this after our balloon wall a few weeks ago. It would be fantastic for a birthday party. The long balloons are not easy to get in small quantities but we're going to offer a balloon kit in the Oh Happy Day Party Shop soon!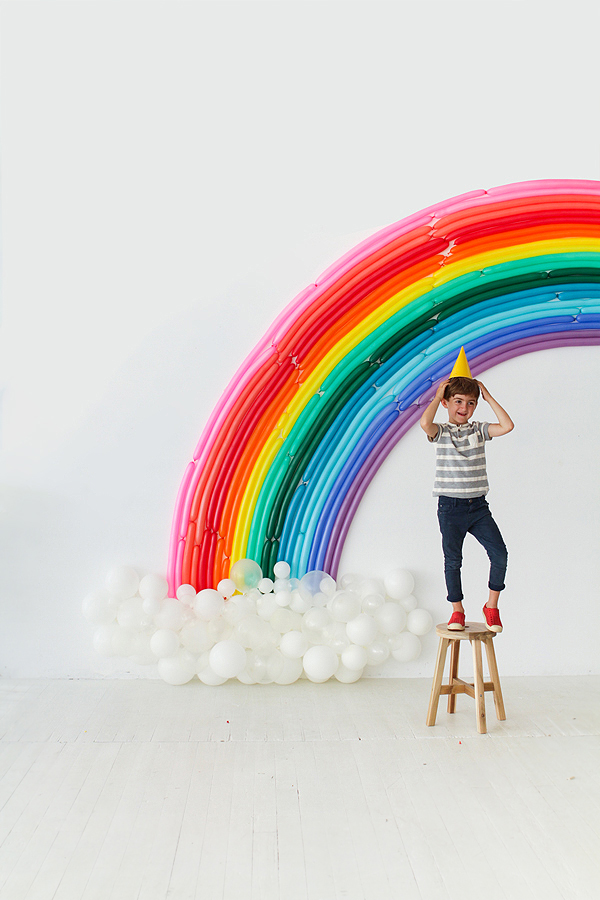 It's pretty forgiving to make (you don't have to be exact) and if you have a couple friends and a balloon pump blowing them up goes really fast. We've mentioned this tip before but balloons start to look old when exposed to light. So it's best to install the same day as the party. If you want to get a head start blowing up balloons before your party then store them in garbage sacks in a dark closet a day in advance.
Materials Needed: 11" balloons (in white and diamond clear), mini balloons (in white and diamond clear), 260Q latex balloons these are the long balloons usually used for balloon twisting (in neon pink, coral, red, mandarin orange, yellow, wintergreen, green, tropical teal, caribbean blue, periwinkle, and lilac–), balloon hand pump, scissors, gaffer's tape
Step 1: Inflate a few 260 balloons in each color to full length. We made each row of color two balloons wide.
Step 2: Starting with the innermost color, lilac, tape the balloons to the wall in a partial arch. To keep the balloon in the right shape, put tape at the beginning, middle, and end of the balloon. Tape the balloons to the wall in parallel, with two rows of each color. Blow up extra balloons as you go to fit in the remaining space left in each arch. You can do this by inflating a balloon to the length that you need, knotting the balloon on both ends, and trimming off the leftovers. You'll want the arch to start about a foot off of the floor.
Step 3: Once you're done with the rainbow, blow up a bunch of the standard and mini balloons in various sizes (Quick tip: the balloons stay round when they're only partially inflated). Starting with the larger white balloons, tape the balloons to the wall in the 12" space between the rainbow and the floor in a cloud-like formation. Fill gaps with smaller white balloons, and layer with clear balloons until your cloud has a full, fluffy effect!
Crafting by Naomi Julia Satake