Balloon Letters are still very much a thing. I love them because they are such an easy way to decorate for a party. Pretty dang foolproof. Since they come in a limited color palate, we spruced up these letter balloons with some spray paint to match our party. They turned out so fun. I also love the idea of choosing a funny thought or phrase to display on the wall at your party.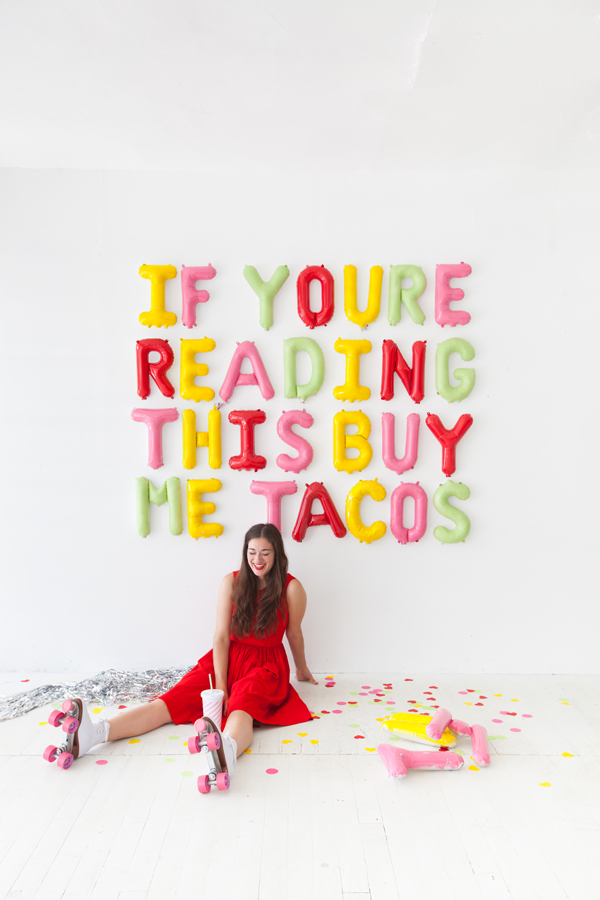 This project is pretty straight forward but here are a few tips to make it turn out perfect. Figure out the colors you want to use and paint those letters in batches. Tape the air tube to the back of the balloon, it looks way better than letting it dangle. This was easy to make but the balloons look so fresh. See the step by step below.
Materials: Mylar Letter Balloons, Spray Paint, Washi Tape, Gaffer's Tape
Step 1: Blow up the Mylar letters and tape back the tag with washi tape.
Step 2: Pick a color palate then spray paint each letter. Let them sit until they dry completely.
Step 3: Lay out your phrase on the floor to help plan out the spacing of each word. Tape or hang on the wall. We used gaffers tape which works really well for temporary hanging that won't damage walls.
Photos by Paul Ferney & Alison Piepmeyer
Styling by Amy Moss