Today I'm sharing the Craft Area! Crafting is how Oh Happy Day started and it's really built into the DNA of the brand. I remember sitting on the floor of my living room making these pinatas for a blog post FIVE years ago and as I was picking out the different colors of paper and cutting the fringe I thought, "life does not get better than this." So when I started to think about what the craft area would be like I had very strong opinions. While I definitely wanted it to look beautiful it also had to be truly functional (not just for show.) I sat down one night and sketched out what I wanted.
I knew I wanted a pegboard and started making a list of my favorite crafting supplies: my trusty ribbon rack, my favorite craft paint that they only sell in France, the best crafting scissors, etc etc. I took inspiration from Linsey Laidlaw's Pegboard and Darcy Miller's Craft Room. I was planning on using a standard pegboard you can find at the hardware store but after looking on Pinterest for inspiration I started seeing really amazing custom pegboards. But I figured it would be cost prohibitive to do something custom. A few days later I saw my friend Isobel (of Bryr clogs) had installed a custom pegboard in her shop too. I asked her if it was expensive and she said it actually was really affordable and gave me the name of her guy. (It was the CNC Shop. My whole wall including materials, labor, painting, and delivery was around $400.) You can see from the sketch below it ended up pretty close to my original brainstorm session.
The space used to be a sewing factory and we inherited this giant table leftover that was perfect for crafting. I like that it is banged up and imperfect so we aren't scared to get it dirty or use it. The stools were leftover from our kitchen in the last studio but are the right height and color! I was a little hesitant to use the square Ikea shelving for our paper wall just becaause it felt very 2005 (I bought my first one that year!) But in the end I couldn't find anything that worked better and I figured I could always switch it out later if I found something I loved more. (The shelves needed to be kind of low to let in light to the office area.) To make the shelves we had plywood cut down into specified dimensions at the hardware store and then bought hardwood dowels and cut them to the right sizes. It took a few days to get those all set up. I put some of the things we don't use much up high and we've made some adjustments as we've used it. It's so fun to have a giant craft area to make things. I've found that having all the materials ready to use makes me feel so creative, I love it!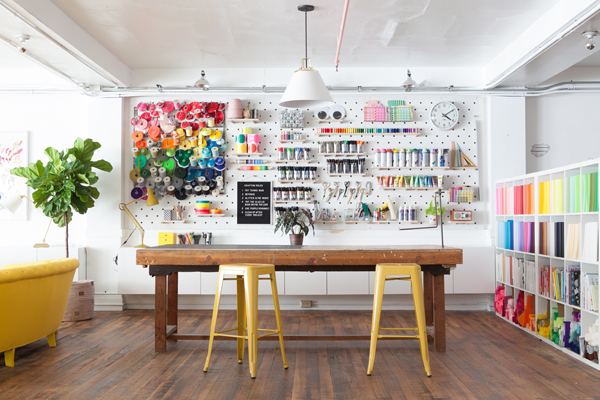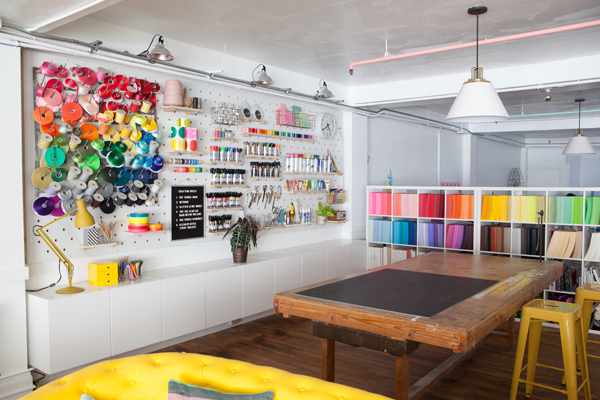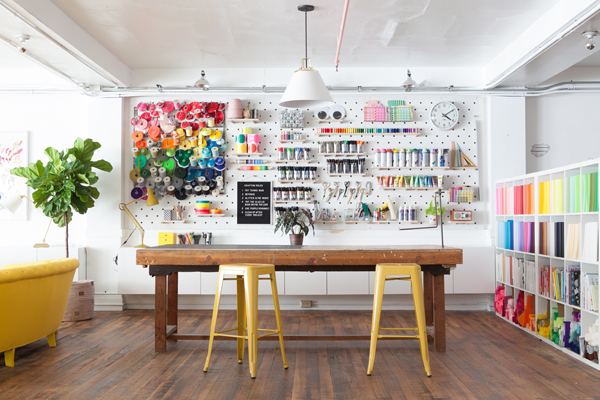 Photos by Paul Ferney for Oh Happy Day
Sources: Custom Pegboard- CNC Shop, Ikea Cabinets, Overhead Lighting – Rejuvenation, Paper Shelving –Ikea, Ribbon rack- Vintage, Lamp – Book/Shop, Stools – Target, Clock – Schoolhouse Electric.