This project is a bit of a blast from the past. I did it a couple years ago (my kids look so tiny!) And somewhere along the way it got lost on a hard drive. I'm happy to finally share it today. These are really easy to make you just need giant paper (we even did some spray paint on white paper for a cheap way to get a bunch of different colors.) It looks so great for party decorations or a photobooth backdrop.
Materials: Butcher paper, string, ruler, glue, bone folder
Step 1: Cut a piece of butcher paper so the length is twice as long as the width. (For example, 12" wide by 24" long.)
Step 2: Fold the width of you paper in half so that it's long and thin. (For example, 6"x24".)
Step 3: Use a pencil to mark every 1" along the length of the paper. Repeat along the opposite side.
Step 4: Using a bone folder and a ruler, score the paper at each 1" mark. Press hard so that the score goes through the second layer of folded paper.
Step 5: Unfold the paper. Along each score line, fold the paper back and forth like a fan. Continue back and forth along the length of the paper. It may be helpful to run a bone folder along each fold to give it a good crease.
Step 6: Once all the scores are folded, you will have a long strip of paper. Tie a string tightly around the center to hold the folds in place. Make sure the knot is at the back of the fan so you can use it for hanging.
Step 7: Gently pull the edges of the paper out so the fan appears. Glue the straight edges together so they create a full circle.
Step 8: Hang and enjoy!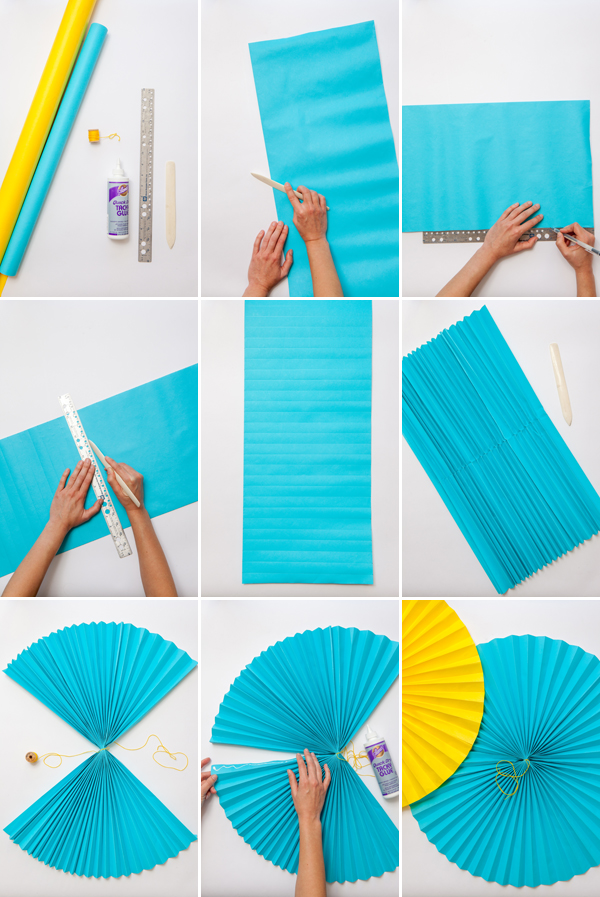 Photos by Sarah Hebenstreit for Oh Happy Day