When I spied this AWESOME editorial photo shoot by JUCO for Alarm Magazine recently, I was completely inspired! So I endeavored to see whether something similar could be re-created affordably as a photo booth backdrop for a party.
Initially it turned out to be a trickier operation than I thought.  It's an interesting balancing act because buying each favor individually can get expensive, however, you don't want your backdrop to end up being too repetitious.  After some research I feel that this can be accomplished affordably. Here are some tips if you want to re-create it for your own party and not break the bank…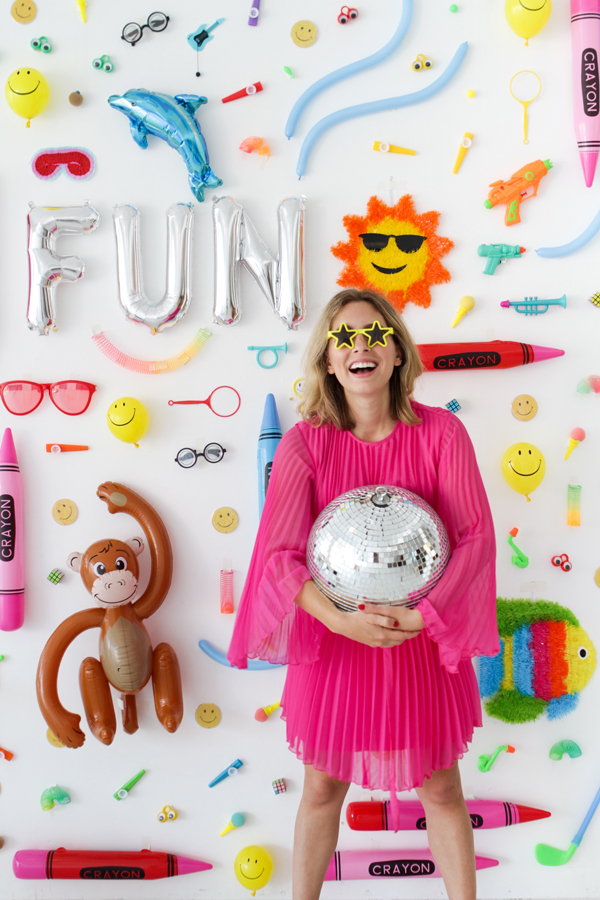 Firstly, take a look at your own 'party closet', or around the house for bright and fun items that can be used. Do you have any favors from past parties stashed away?

Start with sourcing inexpensive 'big' items that will use up a lot of real estate in your backdrop and therefore offer the most 'bang for your buck'  e.g Party City sells these good-sized inflatable fish in packs of 3 for only $1.99.

Some great sources for novelty toys and party favors that I used include dollar stores, Party City, Daiso (everything is $1.50!) and Amazon Prime.

Variety is a key factor however the majority of value packs I found only offer multiples of the same item. However, Amazon sells a few 100 piece packs for around $15-$20 which provide a great deal of variety, like this one.

Long balloons and mini slinkys are both good buys- you can create fun and dynamic shapes from them and they also use up a good deal of real estate.

Simple balloons are also a great way to add a range of color and fun to your wall and they're relatively cheap!

This large inflatable monkey (a mere $2.99), that I found at Party City, provides a quirky element and also takes up a good deal of space.
I personally love these giant inflatable crayons from Amazon! They come in a variety of colors and once again, take up a good deal of space.

If you want to take a more curated and designed approach, Party City is excellent as they do offer individual favors. However, keep in mind this approach will make your wall a tad pricier.

Finally, use gaffers tape or removable double-sided tape to attach your toys to the wall.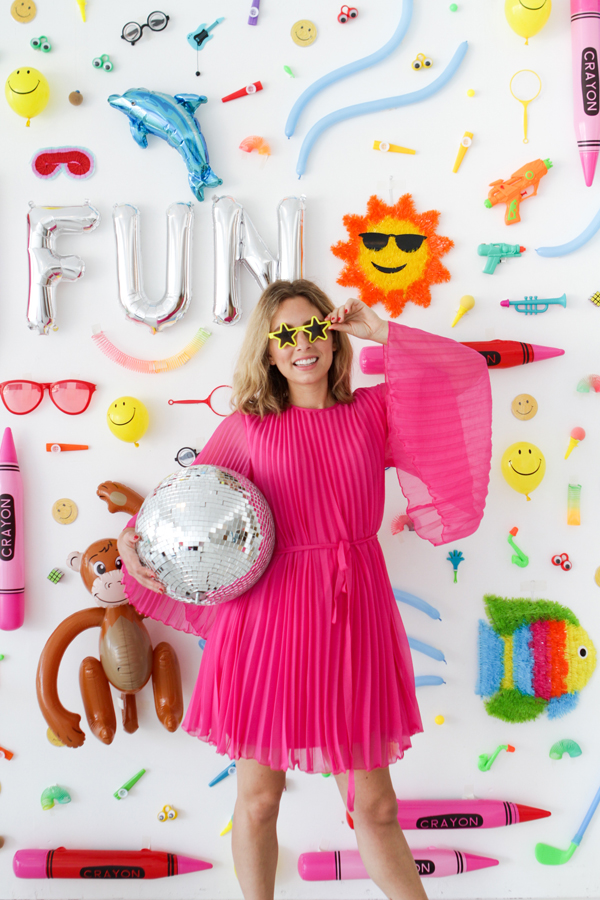 Also, just as a parting tip, it might be kinda fun to let your guests raid your wall for favors when the party is over!
Have fun! 🙂