This idea came from a picture I saw on Instagram by Brooklyn Balloon Company. I was obsessed with it and wanted to figure out how to create my own. Instead of using wire or glue (Which I would use if I wanted it to be super stable.) We used strong gaffers tape and it worked really well for an easy kids party. This makes such great decor for a birthday party and is really simple to make. Click through to read how we did it!
Materials: Projector & Number Font (not pictured), Pencil, Gaffer's Tape, Balloons (11 inch & 5 inch)
Step 1: Connect your computer to the projector. Project the number font you want to use onto the wall. The font we used is Super Clarendon.
Step 2: Lightly trace the number on the wall with pencil (so you can erase it when you take the installation down.)
Step 3: Blow up balloons in lots of different sizes. To make them round, don't blow them up all the way.
Step 4: Attach the tails of the balloons to the wall with gaffer's tape. Start with the bigger balloons in the middle, and fill in the holes with mini balloons. You can also layer balloons on top so the wall doesn't show through. Just roll up a small piece of tape, and tape it right onto the other balloons.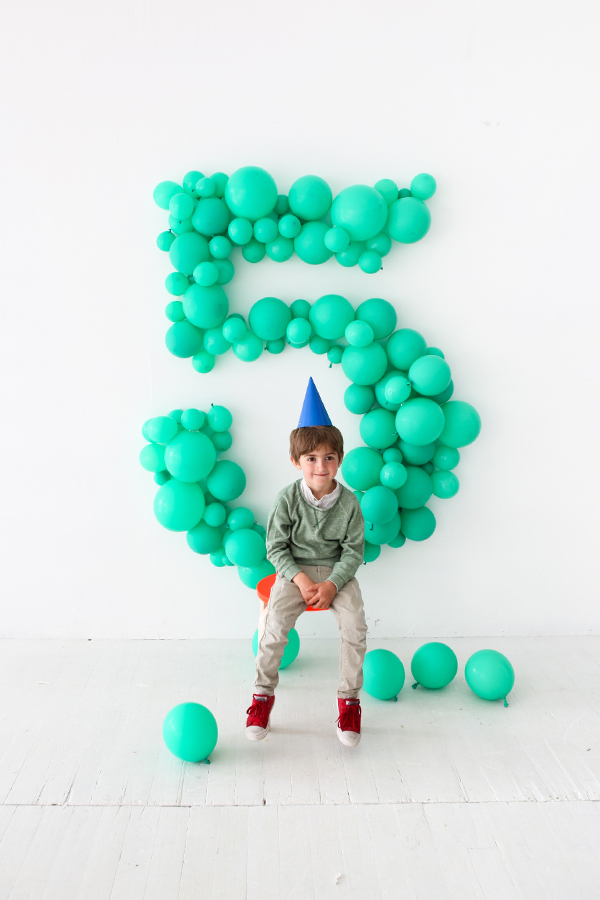 Crafting by Alison Piepmeyer & Naomi Julia Satake