Each year my son Lucas chooses a theme for his birthday party. So far, he's had a modern circus party, a round-themed party, a letters and numbers party, a modern superhero party, and a "go wild" Wild Kratts inspired party. This year he chose to have a magic party for his 6th birthday and I couldn't have been more excited. How fun is this playing card pinata for a magic themed birthday party complete with a giant magic wand for busting it open? Just fill with treats and small magic themed toys and watch the kids go wild!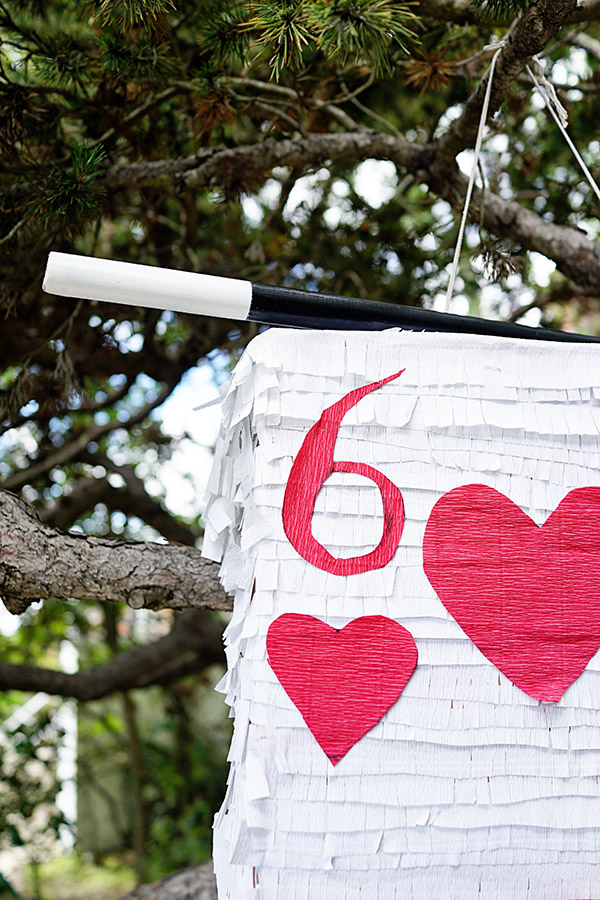 Materials: Crepe Paper (white and red), Rectangular-Shaped Cardboard Box, Glue, Scissors, 1.25″ Wooden Dowel, X-Acto Knife, Black Spray Paint, White Spray Paint
Step 1: Cut the white crepe paper into 3/4″ strips. Cut fringe on one side of the strips, leaving some space at the top.
Step 2: Lay down a line of glue — start at the bottom of the cardboard box and work upwards.
Step 3:  Apply the one-sided fringe to the glue.
Step 4: Cut out as many hearts that correspond to the birthday years. Also cut out 2 numbers that correspond to the age.
Step 5: Lay out the hearts to match a playing card.
Step 6: Place the 2 numbers on opposite corners, just like a playing card.
Step 7: Glue each heart and number to the box. For the back of the pinata, cut out a giant heart and a letter for the kid's name and glue onto the pinata.
Step 8: To make the magic wand, spray paint the entire wooden dowel with black spray paint.
Step 9: When the black spray paint is dry, wrap an 8.5 x 11 piece of paper around the dowel so that only about 1/3 of the end of the dowel is exposed. Then spray paint that 1/3 section with white spray paint and let dry.