As promised, here's our second Maypole-inspired DIY project for the day- cupcake toppers!


Materials Needed: Striped paper straws, scissors, 1/8" ribbon in 6 different colors, ruler, scotch tape, hot glue gun, 1/2" gumball
Step 1: Cut the paper straw to 3" long.
Step 2: Grab one of each strand of ribbon and cut to 5" lengths. You'll want two of each color for each cupcake (12 strands total).
Step 3: Adhere the end of each strand to a single piece of scotch tape. Tightly roll the scotch tape until you have a little tassel. Snip the end for get a nice, clean edge.
Step 4: Apply a tiny bit of hot glue on the taped end of the tassel and stick into the 3" paper straw. This will keep it from wiggling out of place.
Step 5: Holding the straw upright (tassels up), apply a dab of hot glue in the center of the parted tassels. Place a gumball, and hold until glue has cooled. You can use the scissor technique used for curling ribbon to give the ribbon a little direction.
Step 6: Prop the mini maypole in the center of your cupcakes — serve, and enjoy!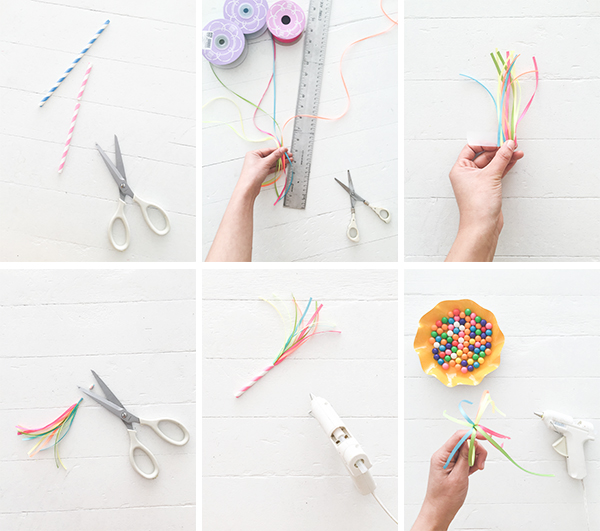 SHOP THIS POST: Neon cake stands, Pastel scallop plates, Neon color block cutlery, Neon party cups, Mini honeycomb Balls, Silver metallic paper straws, Birchwood scallop plates, Pastel scallop canape plates (mini)
See more May Day fun with our Maypole Confetti Favors and Maypole DIY!
Have a happy May Day! 🙂
Crafting by Naomi Julia Satake