Create a striking table centerpiece this Easter using a variety of large papier-mache eggs in pretty pastels accented with gold leaf.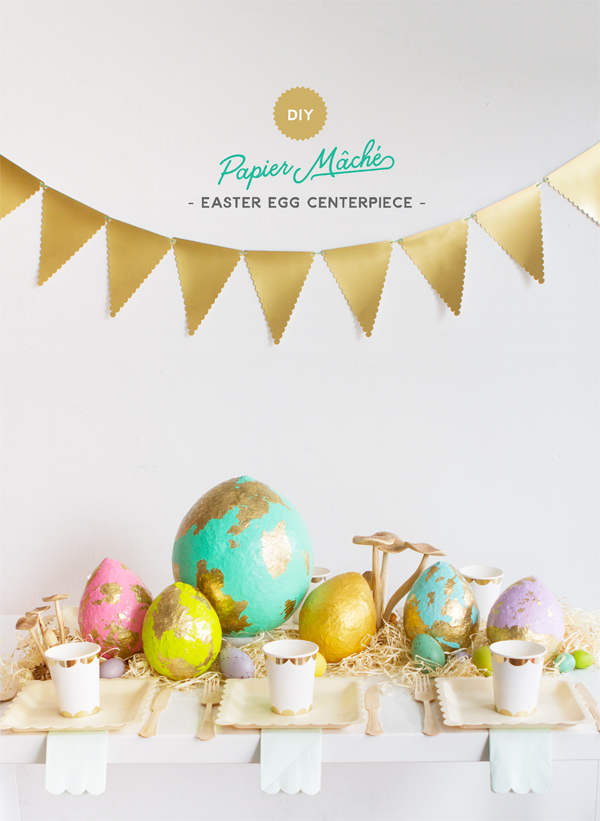 Materials needed: 11″ balloons, 5″ balloons, newspaper, flour, water, bowl, string, white acrylic paint, colorful acrylic paint, paintbrush, gilding "size", gold leaf sheets, cotton gilding gloves, gloss polymer paint (or Mod Podge,) scissors
Step 1: Blow up the amount of desired balloons.
Step 2: Suspend balloons with string to allow them to maintain their egg-like shape.
Step 3: Paper mache balloons. We used a 1:1 mixture of flour and cold water. Do two or three layers. Allow 24 hours to dry between each layer.
Step 4: Paint the dry balloons with a white primer, then paint with the colors your choose. Let dry.
Step 5: Apply the gilding size in sporadic patches across the egg. This is where the gold leaf will stick. Allow 15 minutes to get tacky.
Step 6: Apply gold leaf to the tacky parts and pat gently into place with gloves. Wait 30 minutes.
Step 7: With your gloves, gently brush off the excess gold leaf.
Step 8: Apply a clear coat of gloss polymer paint over the entire egg. Let dry for 24 hours.
Step 9: Cut down the balloons from the string, removing the knotted part of the balloon as well.
Step 10: Patch the top with a single layer of paper mache, paint to match, and let dry.
Crafting by Naomi Julia Satake