One of the most important things to keep in mind about rolling out cookie dough is getting the thickness of the dough right. That is the beauty of this chocolate chip dough! The mini chips prevent you from rolling the dough too thin and keep the cookies perfectly even! These cookies are great for spelling out messages, edible word games (winner eats all!) and even decorating cakes or cupcakes. The possibilities are endless!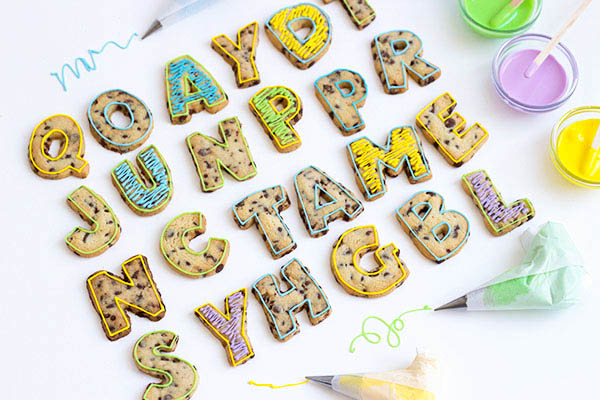 Chocolate Chip Roll-Out Letters (Adapted from Sugarbakers Cookie Cutter Cookbook)
1 cup (two sticks) unsalted butter
1/3 cup granulated sugar
½ cup light brown sugar
1 large egg yolk
2 t. vanilla extract
2 cups all-purpose flour
¾ t. kosher salt
1 ½ cups semisweet mini chocolate chips
Alphabet cookie cutters
Step 1: Make the Dough:
Cream together the butter and sugars with an electric or stand mixer. Add the vanilla extract and egg yolk, and mix until combined. In a separate bowl, mix together (I use a whisk) the flour and salt. Add the dry ingredients to the wet and mix on low speed just until well incorporated. Using a wood spoon or spatula, stir in the mini chocolate chips.
Form the dough into two flat discs (it will be somewhat sticky), wrap in plastic, and chill for 30 minutes or up to two days. Dough can also be frozen for later use.
Step 2: Making the Cookies:
Preheat the oven to 350°F and line cookie sheets with parchment paper. Roll out the chilled dough on a floured surface. If the dough is too hard, let it soften just until you are able to roll it. This part is a breeze because the mini chips prevent the dough from rolling out too thin! Using alphabet letter cookie cutters, cut out cookies (pressing firmly to cut through the chips) and arrange on sheets at least ½ inch apart. Bake 10-12 minutes for 2-inch cookies.
Step 3: Decorating the Cookies:
Sometimes I leave the alphabet cookies plain to let the chocolate chips shine. It's also fun to jazz them up by dunking them in icing and sprinkles or decorating them with royal icing in pretty colors. Check out my book for royal icing recipes, tips and tricks! Such a delicious, fun and easy project!