With the Thanksgiving holidays fast approaching, I thought I would make some easy dessert toppers that could be used for pumpkin pie, apple pie or whatever sweets are on the menu. These could also be customized as place cards for your table–or how cute would they be for a kids' table with each kid's name? I'm also sharing a simple recipe for a no-bake layered pumpkin pie in mason jars. Happy Thanksgiving–it's my favorite holiday!
Materials: Thanksgiving Dessert Toppers Template, hot glue gun, shimmer paracord in beige, Wilton color mist in gold, heavy duty garden wire, scissors, wooden skewers
Step 1: Print out the Thanksgiving Dessert Toppers Template. Cut off length of shimmer paracord a little longer than what you think you would need for your word.
Step 2: Cut garden wire about the same length as shimmer paracord.
Step 3: Cut off ends of shimmer paracord and pull out the strings from inside. The shimmer paracord should now be hollow.
Step 4: Put garden wire through shimmer paracord.
Step 5: Using the Thanksgiving Dessert Toppers Template as a guide, place shimmer paracord/wire over each word and bend it to form the word.
Step 6: Cut the end of the shimmer paracord after completing the word and hot glue the ends.
Step 7: Hot glue a cross for the letter "t" and use a small piece of cord as a dot for the "i".
Step 8: In a well ventilated area, place the word onto scrap paper or newspaper. Spray gold color mist over the bottom half of the word, creating a subtle ombre effect.
Step 9: Hot glue the skewer to the back center of the word.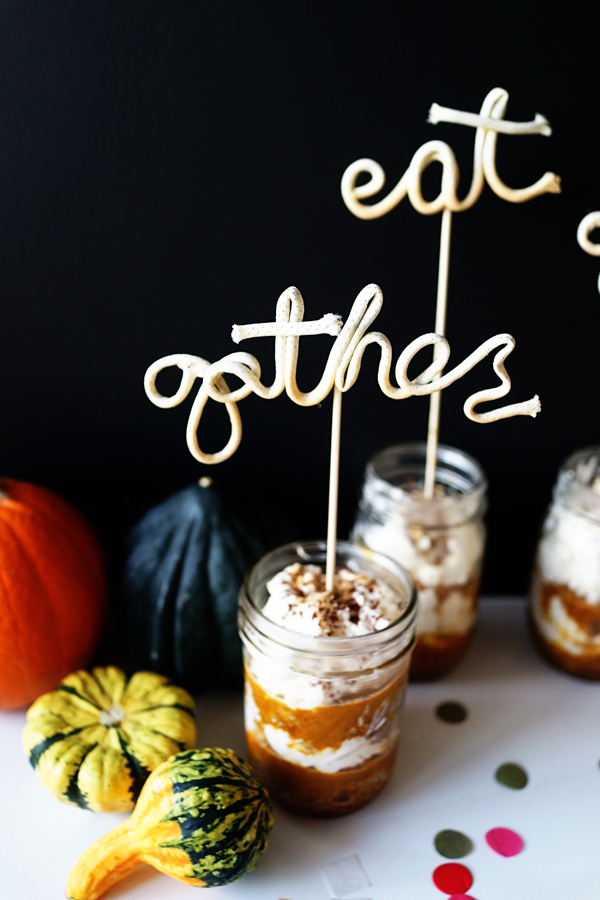 All photos by Good on Paper for Oh Happy Day.