This Halloween costume might be my favorite. It's so cute I want to eat it. We used elastic straps at the back to keep it on! See the full instructions below.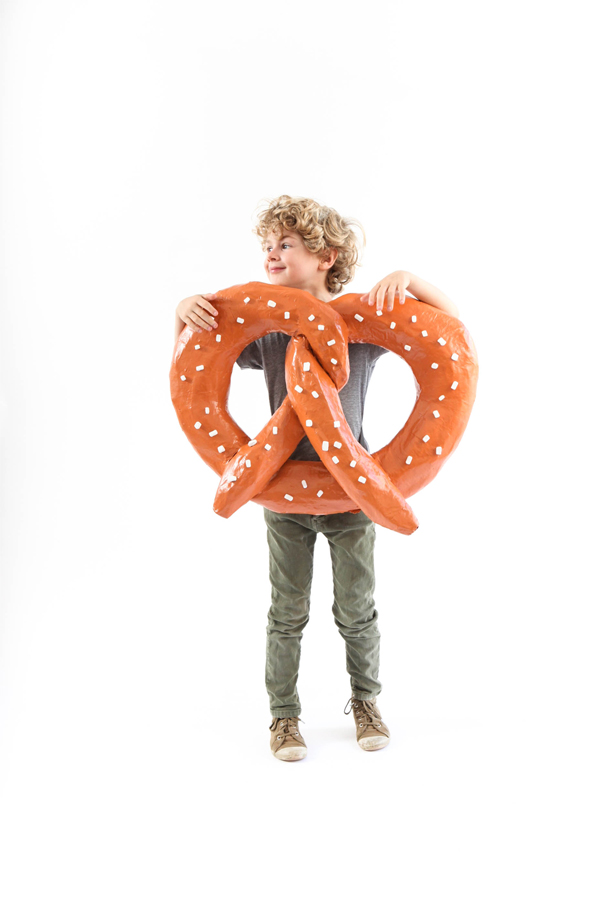 For the base we used paper and bubble wrap and then did the paper mache technique shown below and then did sculpey to make the little pieces of salt.
Materials: Packing paper, bubble wrap, newspaper, flour, water, bowl, packing tape, staple gun, elastic, spray paint, sculpey, hot glue gun
Step 1: Use packing paper and packing tape to create a long strand. Cover the packing paper with bubble wrap.
Step 2: Arrange the strand into a pretzel shape.
Step 3: Prepare the paper maché by mixing equal parts water and flour in a bowl.
Step 4: Soak the newspaper pieces in the mixture, the wetter they are the easier they are to stick to the frame.
Step 5: Lay the pieces on the frame making sure to cover every part.
Step 6: Hang on a line of string to dry.
Step 7: Once the paper maché dries, staple the elastic to the back of the pretzel in a criss cross pattern.
Step 8: Spray paint the pretzel.
Step 9: Shape small pieces of sculpey into cubes. Follow the instructions on the package to bake them.
Step 10: Attach them to the pretzel with hot glue.
Photos by Paul Ferney for Oh Happy Day
Crafting by Colleen Casper