Each year I throw my kids a modern themed birthday party based on what they are into at the time. For my son Theo's 3rd birthday party this year, I threw him a music themed party as he loves to sing, rap, dance and perform with his guitar. Today, I am super excited to share three DIY's with you from the party–the invitations, the party favors and the photo booth props…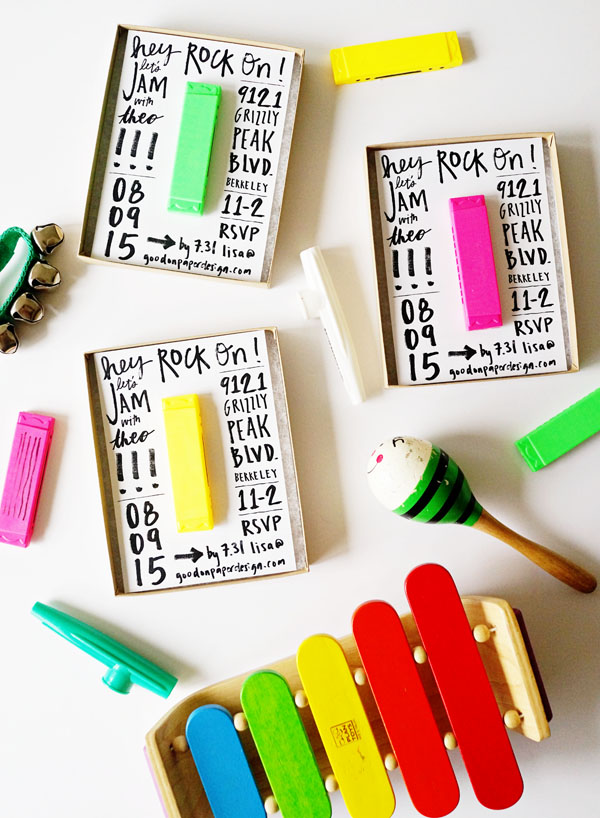 Let's start with the invitations as they set the tone for the party. I made these cute invitation boxes that each held a hand lettered invitation and harmonica for our little guests. It was fun to hand deliver them to Theo's classmates.
Materials: 5×7 cardstock, harmonicas, 5×7 kraft jewelry boxes, black Sharpie
, clear adhesive dots or double sided tape, neon duct tape
Step 1: Use a Sharpie to hand write the invitation onto 5×7 cardstock and make copies to cut out. Alternatively, you could design and print from a computer. Just be sure to leave about a 1.5″ x 4.375″ space for the harmonica.
Step 2: Use a glue dot to adhere a harmonica to the invitation.
Step 3: Insert into box and use a Sharpie to write the name or address of each guest. Seal on two ends with neon duct tape. On the back of the box I rubber stamped our return address.
Next up are the party favors. I like to give things that are useful, homemade or edible (or a combo!). The party favors for Theo's little friends (4 and under) included a cotton pull bag with a handmade jingle shaker and lemon jelly beans in a cello bag sealed with washi tape. For the older kids, I simply put a handful of jelly beans in a plastic zip bag, and then stapled the top.
Materials: 1/4″ wood dowels, 1″ wood ball knob
, ball pein hammer
, 1/4″ x 1 1/4″ zinc-plated steel fender washers
, scissors, black Sharpie
, hot glue gun
, 3×5 cotton side pull bags, washi tape
Step 1: Cut each dowel to about 2″
Step 2: Use the ball pein hammer to carefully create little dimples in the washers. More dimples will create a brighter and more varied sound. The great thing about it is that each washer will be different thus creating unique sounds.
Step 3: Use the hot glue gun to glue a wood ball knob to one end of the dowel.
Step 4: Put three washers into the dowel.
Step 5: Hot glue another wood ball knob to the end of the dowel.
Step 6: Use a Sharpie to decorate the wood ball knobs. I made some simple patterns.
Step 7: Put the favors in the cotton side pull bags
Step 8: Put jelly beans (or any other sweet treat) in a cello bag and seal with washi tape.
Step 9: Use a Sharpie to draw the same pattern on the cotton bags as the jingle shaker that's in it.
Parties always seem more fun when a photo booth is involved. For my final DIY, I made a simple photo booth with easy and inexpensive music themed props that everyone loved. We hung up a white sheet and used tissue paper fans from the Oh Happy Day Shop to create Theo's "fan club". I had guests use an instant camera to snap a photo using easy handmade cardboard props, affix it to an album, and write a birthday wish for Theo.
Materials: Printable Music Themed Kids Party Photo Props, Recycled and flattened cardboard boxes (I used brown kraft boxes and boxes from Honest which are turquoise on the inside, so cute!), 1/4″ wood dowels, scissors, black chisel tip Sharpie
, Scotch tape, double-sided tape, white bed sheet, 21″ tissue paper fans, Mylar 16″ gold balloon letters, Fuji Instax Mini camera, photo album
Step 1: Print out the Printable Music Themed Kids Party Photo Props onto colored paper and enlarge instruments as needed. Alternatively, use a Sharpie to sketch out your own musical instruments directly onto cardboard.
Step 2: If using the printables, use a glue stick or Scotch tape to stick the instruments onto cardboard. Carefully cut around each shape leaving about a 1/4″ border for a fun and rough look.
Step 3: Use Scotch tape to affix a dowel to the cutout. I left some of the microphones and maracas free of dowels. If some cutouts seem flimsy, you could tape smaller pieces of cardboard to the back to strengthen them.
Step 4: Hang up a white bed sheet. Hang the tissue paper fans from a string at varying heights. Blow up balloon letters and hang from a string just below the tissue paper fans.
Step 5: Grab a prop and have guests snap a photo.
Step 6: Affix photo to the album with double-sided tape.
All photos by Good on Paper for Oh Happy Day