Here is another costume in our candy theme we have going! We did this one in paper mache and then just added a cardboard mailing tube for the stick. It turned out so cute!
This is one type of candy that won't cause cavities! I love the look of papier mache costumes. They have a really great 3-D look to them. Find all the instructions for the best technique below!
Materials: Cardboard, Newspaper, Flour, Water, Bowl, Staple Gun
, String, White Spray Paint
, Acrylic Paint, Cardboard Tube, X-acto Knife or Box Cutter, Elastic
Step 1: Make a round frame with a wide strip of cardboard. Crisscross 2 thin strips of cardboard on each side.
Step 2: Lay a few whole sheets of dry newspaper over the frame and tape it to the top and the bottom to create a drum.
Step 3: Prepare the paper maché by mixing equal parts water and flour in a bowl.
Step 4: Soak the newspaper pieces in the mixture, the wetter they are the easier they are to stick to the frame.
Step 5: Lay the pieces on the frame making sure to cover every part.
Step 6: Hang on a line of string to dry.
Step 7: Once totally dry (this could take overnight), repeat steps 4-6 for a second layer. It is important to make many layers because you don't want it to collapse (we did 8-10 layers.)
Step 8: Once completely dry, spray paint the frame white.
Step 9: Draw out a swirl pattern with a pencil. Paint inside the lines with acrylic paint.
Step 10: Use an x-acto knife of box cutter to cut holes for the face and arms.
Step 11: Decide where you want the stick to go, trace around the cardboard tube. Cut a hole that the tube fits inside of. Tape the tube inside the frame to hold it inside.
Step 12: Staple strips of elastic into the frame in a criss-cross pattern. So that it fits over your shoulders like a backpack.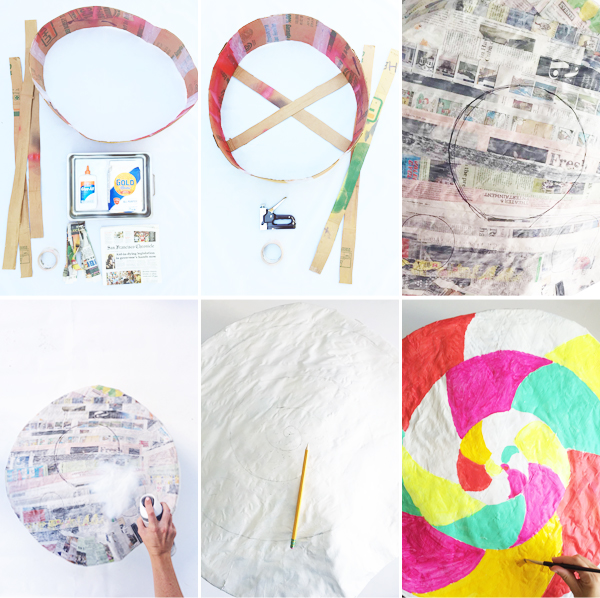 Photos by Paul Ferney for Oh Happy Day
Crafting by Colleen Casper
Art Direction by Amy Moss