We're obsessed with popsicles. We bought a popsicle mold in the spring and have been whipping up a batch every week. We partnered with Truvia® Natural Sweetener to share this popsicle recipe. They are amazing and are low in calories! You can whip up your own Tropical Popsicle party (say that three times fast) with the recipe below.
We love this Strawberry Colada recipe. It only takes a few minutes to put together, so you can make a huge batch before bed, stick them in the freezer, and in the morning – they're ready to go! It's made with strawberries, coconut and pineapples plus a little Truvia® Natural Sweetener. (Get our printable recipe card here.) We like using Truvia® Natural Sweetener because it's zero-calorie and has nothing artificial added so you can feel better about eating 2 or 3 (or let's be honest… 5.)
For a party, the trick is to set everything up early and then put the popsicles out at the last minute (right before your guests start arriving) so they don't melt. It's a good idea to serve them upright in buckets of ice to keep their temperature cool.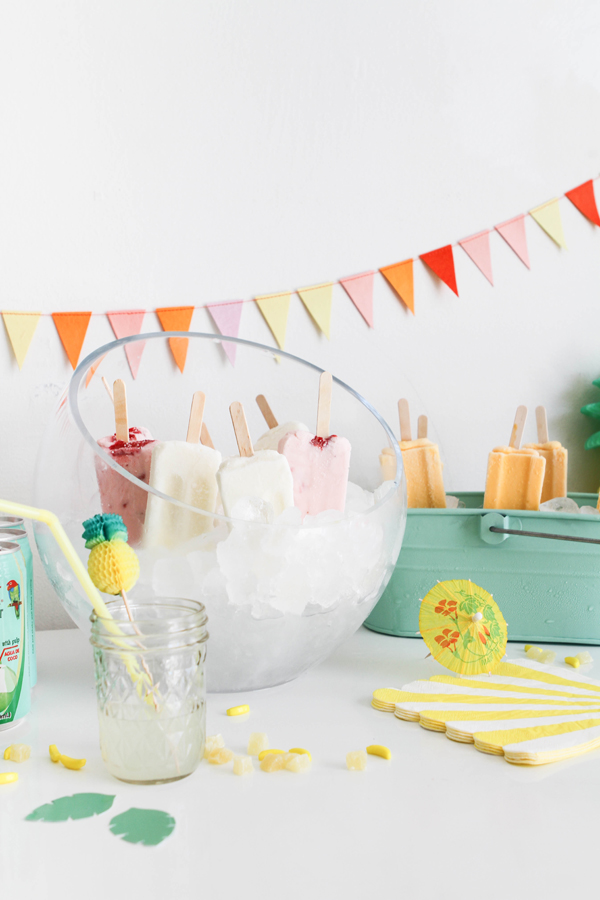 This post is sponsored by the Truvia® Brand: calorie-free sweetener from the stevia leaf.
Art direction & styling by Amy Moss & Alison Piepmeyer