Lately we've been trying to bring more magic into our daily routine. Even the most boring activities can become a celebration! For instance: with a little imagination, a shower can turn into the perfect party…
Today we're partnering with one of our favorite brands to show how you can make showers more fun! method just released 4 new foaming body wash scents: sea mist, ruby orange, cucumber mint, & water flower. Like method's other products, these body washes are natural and don't have any dirty ingredients (like parabens). Plus, they leave your skin really soft! After testing them out, we felt inspired to recreate the scents through mini parties. These shower parties may not be super practical, but we had fun styling them in a way that represented the new colors and method's fun brand. Don't you wish your bathroom always looked this good? We've all been debating our favorite colors. Which one do you like best??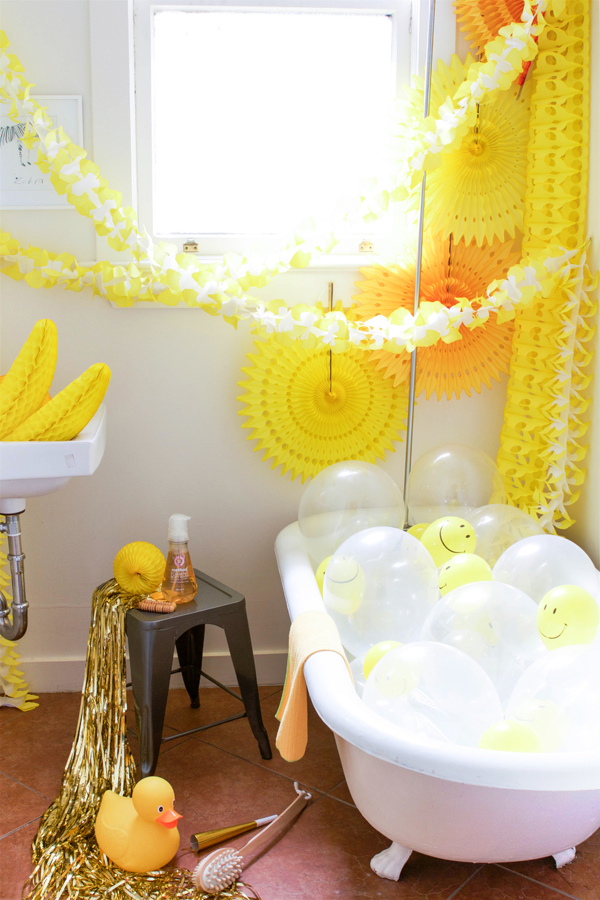 Sources: Disco Ball
, Zebra Print, Streamer Garlands, Criss Cross Garlands, Moon Balloon, 11″ Balloons, Metallic Curtains, Mini Disco Balls
, Spider Garlands, Tissue Paper Fans, Banana Honeycombs, Smiley Face Balloons, Honeycomb Balls, Rubber Duck
, Fan Garlands, Palm Pillow, Plants
This post is sponsored by method: clean happy.
Art direction & styling by Amy Moss
Photography by Alison Piepmeyer
Assisted by Andrea Ramirez & Samantha Livermore