Can you ever go "overboard" with too much nautical? I don't think think so. Whether you're having a boat-themed party or a summer celebration, these printable sunset treat bags will be a hit. These easy to assemble treat bags are great for any small gifts or treats (lifesavers would be ideal!).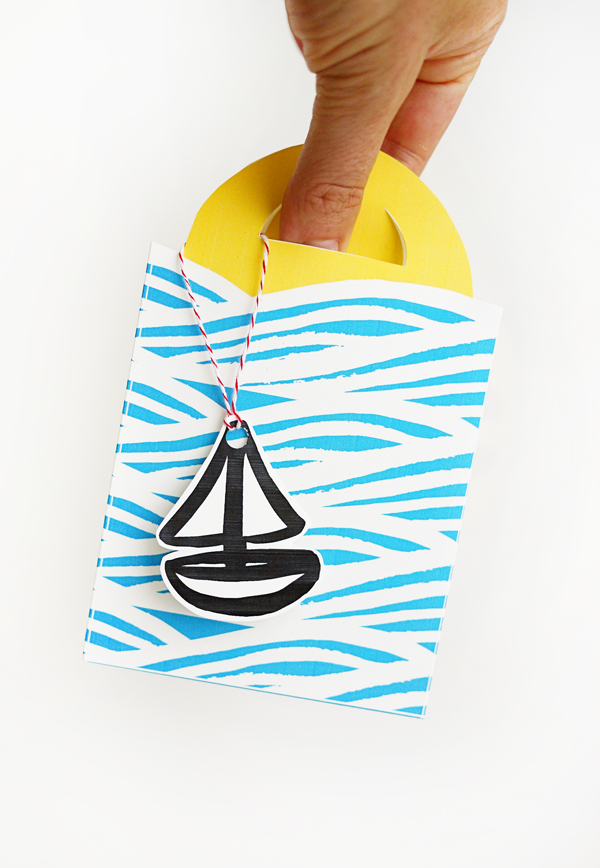 Materials: Printable Sunset Treatbag, 8.5 x 11 white card stock (I used Epson Ultra Premium Matte Presentation Paper), ruler or straight edge, glue, craft knife, bone folder, scissors, baker's twine (any string or ribbon will do), hole punch (not pictured).
Step 1: Print out the Printable Sunset Treatbag on 8.5 x 11 white card stock. With the straight edge & bone folder score all the white lines that will be folded (indicated on template).
Step 2: Cut out bag & sailboat tag with the kraft knife or scissors.
Step 3: Fold all of the scored areas with the bone folder.
Step 4: Cut out the handle holds in the sun with the kraft knife as indicated on the template.
Step 5: Place glue on all of the tabs and assemble bag. Let the bag dry.
Step 6: Use the hole punch to make a hole in the sailboat tag and string with a piece of baker's twine. Tie to the bag and fill with gifts & treats. Now, sail into the sunset!