Have you ever hosted a Pop Up Dinner Party? I've always wanted to, but have been too intimidated to actually give it a go. The practicalities seem so daunting. Then a few weeks ago, I was invited to this special Pop Up Dinner on Bernal Hill and it was as perfect and beautiful as I'd always imagined. Despite my initial reservations, it made me want to take the plunge and host my own. I mean, how hard could it be, right??…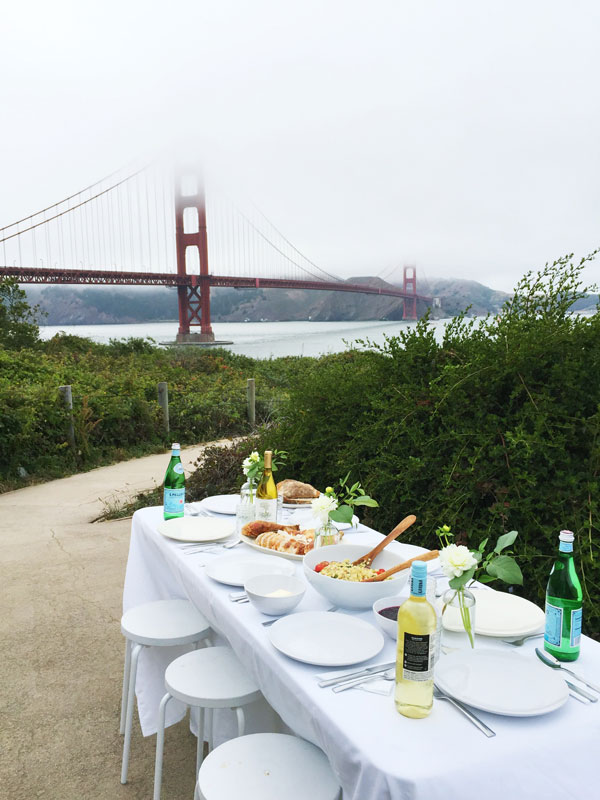 RIGHT! To my surprise, it was actually super easy. I'm sure there are a some other people who've been intimidated like I was. So today I thought I'd share a few things I learned as a beginner.
Location: The most inspiring Pop Up Dinner parties happen in unexpected locations (like here or here!) For my first one, I knew we wanted to a) sit near the Golden Gate Bridge, b) be near a road or parking lot for easy loading and unloading, and c) be in a spot that was easily accessible with public transportation (since some of my friends don't have cars.) The Tuesday before the event, my friend and I drove around looking for the best spot and finally settled on a paved area near the Presidio. It had a great view of the bridge, was protected from the wind, and was less than 100 yards from a parking lot. Done and done. However, when we came back on Saturday for the event – it was PACKED with tourists. No, really: some even asked us to take photos of them sitting at our table. ("Um… sure?") When I do it again, I'll definitely pick a spot that has less foot traffic.
A bunch of people asked if we had permission to be there. Good question. The answer is: I don't know? I called the Park Department to ask some generic questions and it seemed like they didn't really care as long as the group was under 30 people. So, we didn't get a permit and no one bothered us.
Oh, one more thing. Make sure to give a really clear address or location for guests to put into Google Maps (especially if your spot is off the beaten path.) Some of our friends got a little lost on their way.
Setting Up: An hour and a half before the event started, we borrowed a car to pick up the table and chairs and to bring over all the food and supplies. I actually borrowed Jordan's table and chairs, but it's just as easy and really affordable to rent them.  Setting up the table went as quickly as Jordan said it would – my husband and I did it together in about 15 minutes. We used our own Ikea plates and silverware which we brought in a big tub. This also makes cleaning up super easy – just throw everything in the tub and go. I didn't want to break any of our pretty wine glasses, so we used Mason jars instead. At the last minute, we also threw an extra knife, paper towels and some garbage bags into our bag and were really happy we had them all on hand.
Food: I get overwhelmed cooking for groups of people, so this time I split the cooking duties with a friend and that took a lot of the pressure off. We kept things super simple and choose dishes that could be served chilled. (Next time, if I didn't have any cooking help, I'd probably just order takeout.) Transporting the food was really easy though. I placed both items in white serving dishes and covered them with tin foil before we left the house. When we got to the location, I just placed them on the middle of the table and wiped down the inside edges to make the dishes look a little cleaner.
Drinks: Since summer nights in San Francisco get chilly, Jordan recommended ending the night with a warm beverage. This was THE BEST idea. My friend brought glühwein in a thermos and just when people started getting cold, we brought it out. It totally warmed everyone up and kept us chatting at the table for an extra hour.
Decorations: We kept things pretty simple and went with an all-white color palette. Jordan told me to rent the linens – but I borrowed a tablecloth from a friend. It worked out alright, but the tablecloth wasn't exactly the right size for the table and on 2 sides you could see the table legs. I know that's NOT a big deal (and seriously, no one noticed it) but I'm totally OCD and it bugged me. Next time, I'll just listen to Jordan and rent all the linens. For flowers, I picked up some dahlias and greenery from Trader Joe's. I saved a few kombucha bottles the week before the party and turned them into vases. Easy and cheap. I would've also loved to use candles, but it was a little windy that night and I get weird about open flames outdoors.
Cleaning Up: Jordan told me that everyone would help us clean up at the end – which was totally true. Clean up took about 10 minutes and everyone helped to carry the supplies back up the hill to our cars.
Overall, the night was really special and I know I'll remember it forever. During dinner, we watched sailboats glide across the bay while the fog rolled in. While we ate dessert at twilight, we saw all the twinkling lights appear along the bridge. It's the stuff that you see in movies – except this was real life! I couldn't stop pinching myself.
So, there you have it! Have I sold you yet? Would you ever host one yourself??