I hope you aren't sick of cacti themed DIYs yet, because I know I'm not! These place card holders are super simple – they're just painted air-dry clay! This would be a fun project to work on at a craft night because sculpting the cacti is mindless work and let's you chat away. They'd be cute as a hostess gift too, don't you think? (PS – Mini Cactus Cupcake Stands!!)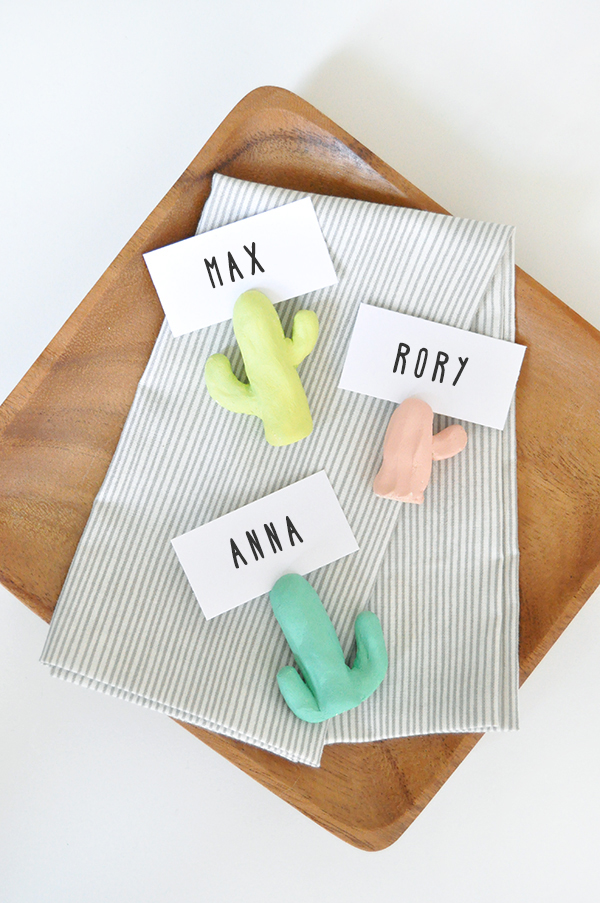 Supplies: Air dry clay
, exacto knife
, safety pin, bowl of water, tin foil, paint
, paintbrushes
Step 1: Use the air dry clay to make a rounded cylinder about 1″ to 2″ tall. Use your finger to press vertical lines down the cactus if you wish. To add an arm, sculpt a smaller cylinder, make crosshatches on the end and where you'd like to attach it onto the cactus.
Step 2: Attach the arm onto the cactus base, smoothing the joint with your finger and a little bit of water.
Step 3: Use the blade of the exacto knife to cut a slit into the top of the cactus. Make sure it stays wide enough for paper to sit in later!
Step 4: Let dry completely. Depending on the size of your cacti and your clay, this may take a couple days.
Step 5: Paint the cacti in various pastel colors.