When we bought our San Francisco flat last year it was my first time ever having a dining room. I immediately started dreaming of the dinner parties I was going to throw that I never could because of the tiny apartments we always lived in. The bedrooms and kitchen took priority but this spring we started working on the dining room. Click through below to see the before and after.  
The first decision was should we paint the beautiful wood moulding? This was a tough decision for me because I'm prone to paint every room white because of how it reflects all the light. But the dark wood was so beautiful! My least favorite part of owning an old home is this self-imposed pressure and burden to try to maintain and preserve the original look. A few months ago  I realized that we were not using the room. It was dark like a cave and no one ever wanted to spend time in there. Meanwhile the guest bedroom (also at the back of the house) got amazing light and we would end up lounging or watching movies in there just because the light was so good. That realization made the decision a lot easier and finally we took the plunge.
We considered doing it ourselves but since I wanted the paint job perfect we hired some painters (who we LOVED!-email me if you are in San Francisco and need a good painter) they spent five days just on this one room, sanding and painting and sanding and painting. For the paint we used Valspar's new Reserve Paint in Swiss Coffee from Lowe's. The wood was a semigloss finish and the wall was an eggshell finish. The painter commented on the quality of the paint! When we saw the finished room for the first time it was a completely different space. We LOVED it. It is crazy how much time we spend in that room now. Paint makes such a difference! (Before picture is below.)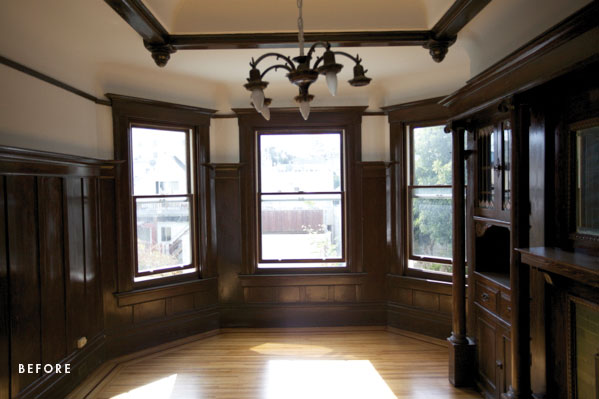 Once the paint was in it was time to decorate. I feel like the space is still a work in progress but here is a peek of where we are at. Here are some of the inspiration photos I was inspired by (both from Domino Magazine.)
When I was thinking about how we would use this room I realized we eat most of our day-to-day meals in the kitchen. It would be a shame to only use the room for dining so I wanted to make it dual purpose. Like a dining and project room. My friend Erik suggested I have a custom window seat built with storage. I love that idea. The kids can do art projects or homework on the big giant table. We have a really great view from the back of the house so a window seat will be perfect. I bought a simple wooden bench as a placeholder until we have a woodworker in to make one. I find I usually take a long time to decorate my house. I like to find the perfect pieces and I feel like there is no way to do that (even if you have unlimited funds) unless you take your time. So I tend to use the "placeholder" technique a lot. For example I first bought a vintage French table off Craigslist but it looked small in the room. Then I spent forever looking for the perfect large oval table like the one pictured above but couldn't find one I was happy with. Meanwhile we needed a dining room table, so I bought this IKEA one off Craigslist as a placeholder until I find what I really want. (I can sell it used for the same price I bought it.)
For the chairs I've started collecting some vintage Bertoia's (I love the industrial look of them) but we're using the Eames chairs from Paul's studio until I have enough for the whole table.
The art wall was inspired by the photo above. I bought a few pieces but most of them I already owned and I just reframed them. We bought a Mat Cutting Kit
a few years back and use it like crazy. It's paid for itself ten times over. I highly recommend one if you are doing a big gallery wall like this.
The rug is a Moroccan rug. I like that it is neutral with little touches of color. I know it's not ideal to put a rug under the dining table. I would prefer not to have a rug at all but we are obligated to have a certain part of our floors covered in rugs for our neighbor's sake. Since we will use this room as a project space more than a day-to-day eating space I'm not too worried about the rug.
This post is Sponsored by Lowe's. All opinions are my own.
photos by Paul Ferney for Oh Happy Day