Sometimes I like to spend a lot of time preparing for a party but most of the time I just put everything together last minute. I have this theory that that you can throw a really great party with the just the following:
-Keep a nice stock of items in your party supply closet
-1 hour of errands
-1 hour of crafting
When I run errands I usually pick up a cake or make a quick stop to a party store. In addition I like to spend an hour making something so the party feels special whether it is tiny hats for party animals, fringey garland, or homemade party hats. But the key to pulling out a great party last minute is keeping a well stocked party closet. When you keep a few of these party supplies on hand it is easy to pull a great party together at the last minute. I've been wanting to do some posts like this where I show some of the most-used items in my closet and how to pull them together for different events. We will be sharing some party ideas this week but first I wanted to talk about some of the things I keep on hand in my party closet.
1. Candles. I choose candles based on the cake size and style and who is blowing them out. These number candles are great for small cakes or if you are celebrating a large number and you don't want to go all out. I love these tall graceful candles
for classic birthday cakes. They come in really good colors. I always keep these "Happy Birthday" Candles
for a quick and festive cake topper.
2. Paper. I really like to keep some raw materials around like white butcher party
and folds of crepe paper. The crepe paper I use for everything: dot garlands, giant fringe, fringe garlands, and flower party blowers. If you read this blog then you know it is my medium of choice because you can do so much with it. The paper is great for backdrops or making giant signs or making homemade wrapping paper. It is a good thing to keep around.
3. Confetti. I really love this confetti from Party City, it comes in great colors. The giant confetti I got in France couldn't find a good source.  And party poppers
are the best for when there is a special moment like an announcement or New Years Eve, etc.
4. Napkins. I get napkins from pretty much everywhere: Ikea, Target, etc. But I swear when I need them, they never have good ones. So I always pick up the good ones when I see them.
5. Balloons. A bunch of balloons whether they are helium or just hanging out on the floor, it is the easiest way to make a room feel festive. I usually keep a few bags of basic balloons
and a few of the giant balloons
.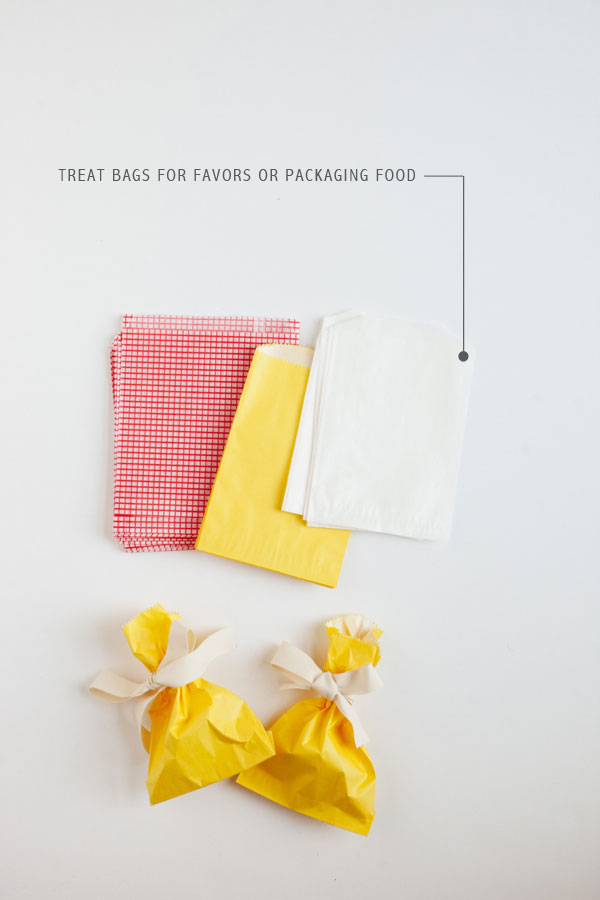 6. Treat Bags. I use these little bags to print on and to package food or toys for favors. I like the selection over here.
7. Straws and Picks. I love a good striped paper straw and I use these wooden skewers all the time, for cupcake toppers, drink stirrers, and for food presentation.
8. Decorations. These decorations are the easiest way to add color in a just a minute or two. They are inexpensive and look great in masses. Pearl River Mart is a great source for garlands.
Photography by Aubrey Trinnaman for Oh Happy Day
Art Direction by Jordan Ferney
Coordinated by Stacy Wichelhaus
Styling by Caitlin Barker
Crafting by Jessica Heywood
Assisted by Harper Casimiro