This post is sponsored by Bing our Craft Night Sponsor. Take the Bing Challenge and find out why People Chose Bing Search Results nearly 2 to 1!
Rubi Jones (hair stylist extraordinaire) was in town so I asked her to host a braid bar and teach us how to braid our hair. I met Rubi when I was living in Paris and she was always off in exotic locations doing hair for fashion week. She is really talented so I was excited to collaborate with her. We made these letterpress instructions for the night of the event. The talented Samantha Hahn did the illustrations and then we printed them on my letterpress (with a tiny bit of red neon ink at the bottom.) For those that couldn't make it here is a step by step from Rubi on how to do a braided chignon. This is a great everyday hairstyle or for something a little fancier.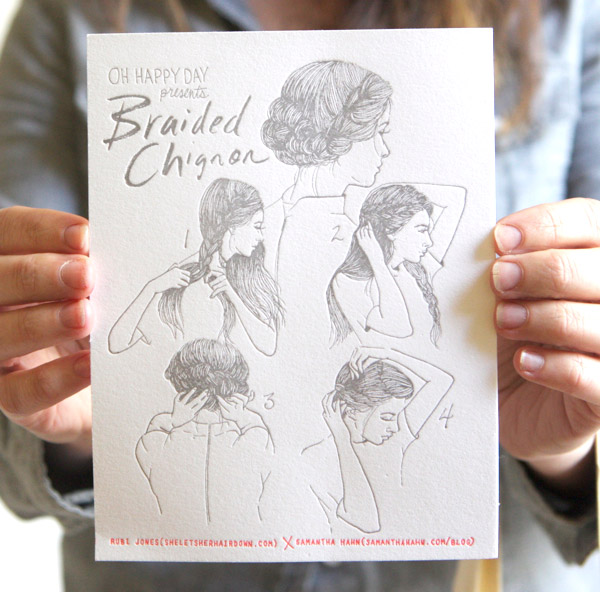 Step 1: Start with a deep side part and continue it all the way down to your neck. That will divide your hair into two sections.
Step 2: French braid one section, starting as close to your side part as you can and when you cant add more hair just finish off the braid like a normal braid. French braid the other side.
Step 3: Now you're going to pin both braids together to create a low chignon. Cross them once and pin one braid and then pin the other.
Step 4: Once your hair feels secure, you're going to pull your braid apart a little bit to add some texture. Starting at the beginning of your braids lightly tug on either side of the braid as you work your way to the end.
Here are some photos I pulled from instagram of the finished results.
images from: @ohhappyday /@maryinsf /@margaretgstewart /@rubijones