This post is sponsored by Haven in Paris, a boutique, luxury, vacation rental agency with more than 15 years of experience in the tourist industry in Paris, France and Italy. See all of their properties right here. They also run a helpful Paris blog right here.
When we first moved to Paris we rented this apartment in Montmartre from Haven in Paris while we looked for a permanent house. One thing I started noticing when I traveled here is all the Europeans would recommend apartments to stay in when we told them were were planning a trip. In Europe renting an apartment when you travel instead of staying in a hotel is very common. And I came to learn there are major perks from traveling like that.
One. It's a reality that most hotel rooms in Paris, are itty bitty. We stayed at a few fancy hotels on our honeymoon and I was shocked to see how small they were compared with how much we were paying a night. Apartments in Paris, while not known for being enormous are much larger than a standard Paris hotel room.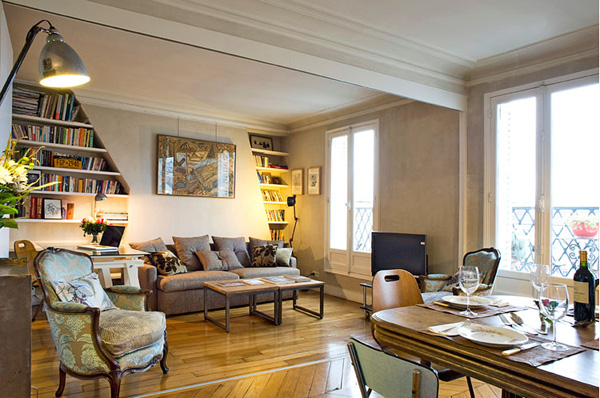 Two. It is a more authentic Paris experience to stay in an apartment. It gets you off the tourist grid and into the adorable Paris neighborhoods. You say "bonjour" to your neighbors while you walk up the stairs and nod your head at the old woman sitting on the balcony next to yours. You get to experience what its like to live in another culture.
Three. Having your own kitchen when you travel is the best! We bought a rotisserie and some beautiful side dishes from a deli and set up a large spread while we watched the sunset off the balcony. It was fantastic. My Haven in Paris greeter Evelyne, took me around the market in Montmartre and taught me how to shop and showed me all the beautiful things that were in season. It was so inspiring that I ended up cooking in our apartment and trying new dishes all the time.
Four. You have more control over your vacation. When you book a hotel they show you the best pictures of their best room but somehow the room you end up in looks a lot different than those pretty pictures. When you rent an apartment the place you see is the place you get.
Have you ever rented an apartment instead of a hotel? What did you think?