I made this DIY last year for my book and am excited to share it today! I love me some good festooning and this giant fringe festooning is seriously SO easy to make. Just choose some good tissue paper colors and then all you need is scissors and a stapler. I love that you can make such awesome decor with such simple supplies.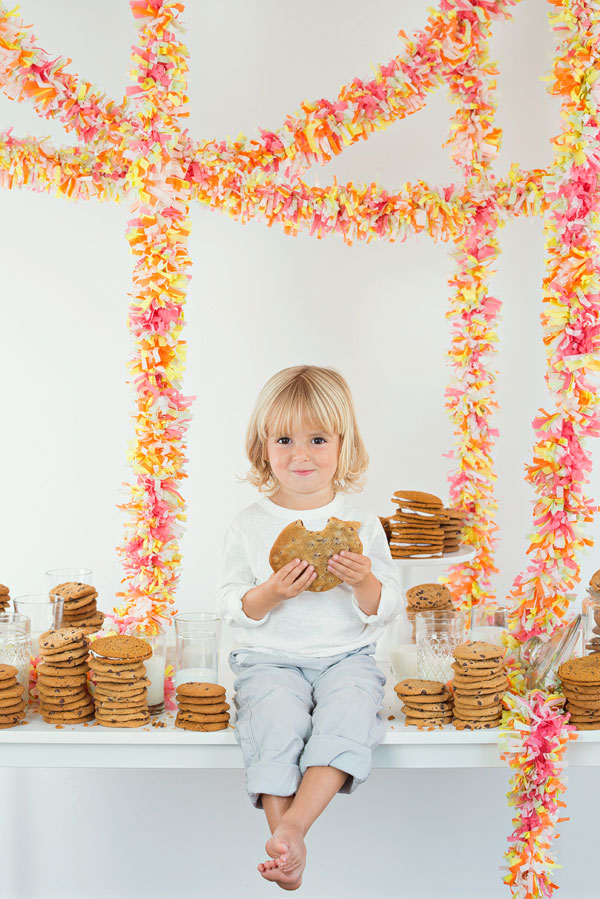 Materials: Tissue paper, scissors, stapler
Step 1: Layer at least 4 sheets of tissue paper (in different colors.)
Step 2: Line the tissue paper up and cut a strip that's 5-6 inches long.
Step 3: Begin cutting fringe halfway through the strip, leaving some space in the middle. Turn the fold over and finish cutting the opposite side of fringe. Be sure to not cut all the way through.
Step 4: Staple the sheets of tissue paper together in the middle of the fringed strip.
Step 5: Twist the tissue paper strip tightly and pinch the center so it stays in place.
Step 6: Place your hand around the twisted strip and squeeze (to make the fringe less perfect). Repeat along the entire strip.
Step 7: Repeat steps 2-6. Then attach the different strips together with a stapler to create a longer garland.
Step 8: Hang and enjoy!
Photos by Sarah Hebenstreit for Oh Happy Day